Dana Incorporated made a series of announcements during ATA's Technology & Maintenance Council (TMC) Annual Meeting in Atlanta this week, including news about its Spicer Electrified components and the expansion of its commercial-vehicle technician training series.
Spicer Electrified eS9000r e-Axle
Dana has started production of its Spicer Electrified eS9000r e-Axle for Class 4 and 5 commercial fleet applications. The e-Axle will be available for ordering by vehicle manufacturers in the third quarter of 2020. Dana says it is the first to market with this e-axle classification in North America and is the only supplier with the in-house capability to manufacture all components of the system, including the gears, axle, motor and inverter, the company says.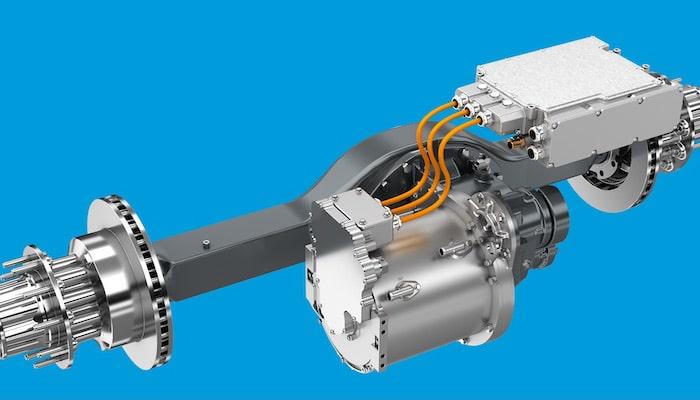 Designed for medium-duty truck and bus applications, the e-S9000r is based on the proven and widely specified Spicer S110, S111 and S130 rear-drive axle platforms, and is engineered as a fully integrated e-axle, including a gearbox and motor. The eS9000r is easily incorporated into most existing chassis, reducing driveline complexity while allowing batteries to be located between the frame rails to simplify truck body positioning. The eS9000r axle also incorporates Dana's patent-pending electronically controlled parking pawl system, Dana says.
"The eS9000r e-Axle is built on our distinguished single-drive axle and e-powertrain platform, offering a streamlined electronic propulsion system for increased reliability and efficiency," says Mark Wallace, president, Dana Commercial Vehicle Drive and Motion Systems. "With an extensive level of electrification activity in Class 4 and 5 vehicles, we anticipate this truck class to be the first for widespread deployment and are ready to support our customers with industry-leading electrodynamic solutions."
Engineered as a drop-in solution for existing suspensions, Dana says the eS9000r e-Axle includes numerous innovative features, including:
Patent-pending electronically controlled parking pawl system that eliminates the need for an external solution on vehicles without a traditional transmission;
water glycol-cooled Dana TM4 SUMO LD motor and Dana TM4 CO150 inverter;
maximum power of 237 kW at 650 VDC for grade startability of 20 percent;
battery input of 450 to 750 VDC; and
system weight with disc brakes of only 370 kg (815 lb.).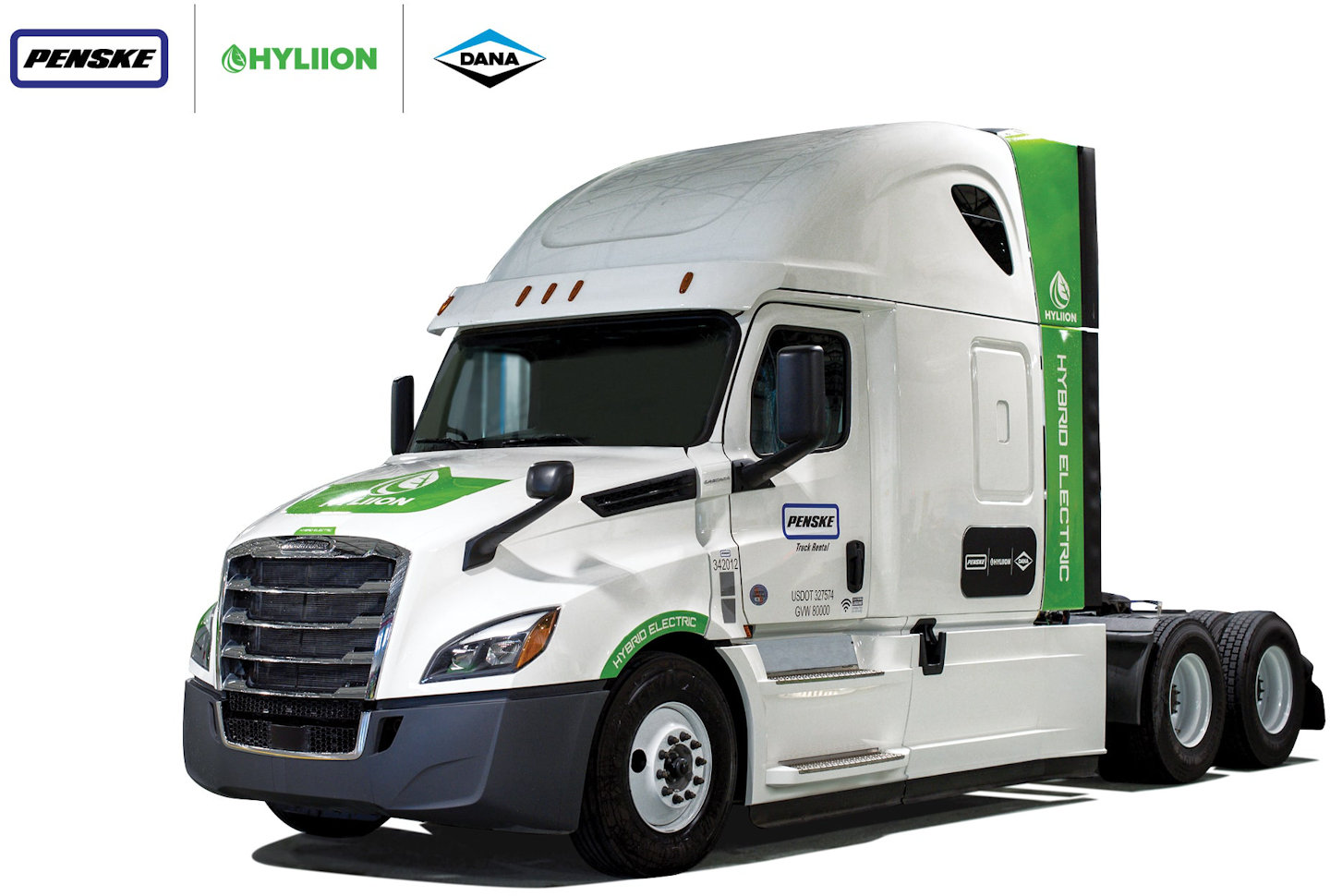 Dana's Spicer Electrified components provide e-powertrain solution
Hyliion Incorporated has announced it will be providing three vehicles to Penske Truck Leasing, all of which will incorporate its 6X4HE Class 8 hybrid system.
"We are excited to deploy our technology with Penske, a company that is leading the industry shift toward electrified solutions. Our hybrid electric system on their Class 8 sleeper truck will reduce fuel consumption while also improving the driver experience," says Thomas Healy, Hyliion CEO. "Our collaboration with Dana provided the opportunity to leverage its strong product development process and affiliation with leading fleets such as Penske to help foster this cooperative sustainability program for all key stakeholders."
The remaining vehicles will be delivered throughout the year, allowing Penske to complement its fleet with the combined Hyliion-Dana Class 8 electrified solution. It will enable Penske operators, technicians and end customers the opportunity to start taking advantage of the many benefits that electrified powertrains have without the concerns of overcoming infrastructure, grid and range hurdles. As part of the program, Penske will provide ongoing assessments on current and next-generation products.
"Dana is committed to helping fleets navigate the electrification journey with industry-leading technologies and programs," Wallace says. "Together with Hyliion, we have a unique opportunity to implement long-haul solutions today that revolutionize power conveyance and support fleets in meeting their sustainability goals."
Paul Rosa, senior vice president of procurement and fleet planning, Penske Truck Leasing, says, "Penske is committed to advancing and testing innovative technologies that are shaping the future of electric mobility in commercial transportation.
"We look forward to deploying these new vehicles into our fleet and evaluating them as a part of the diversified offering of electric vehicles we have for our customers," Rosa adds.
The Hyliion 6X4HE system is available for immediate ordering.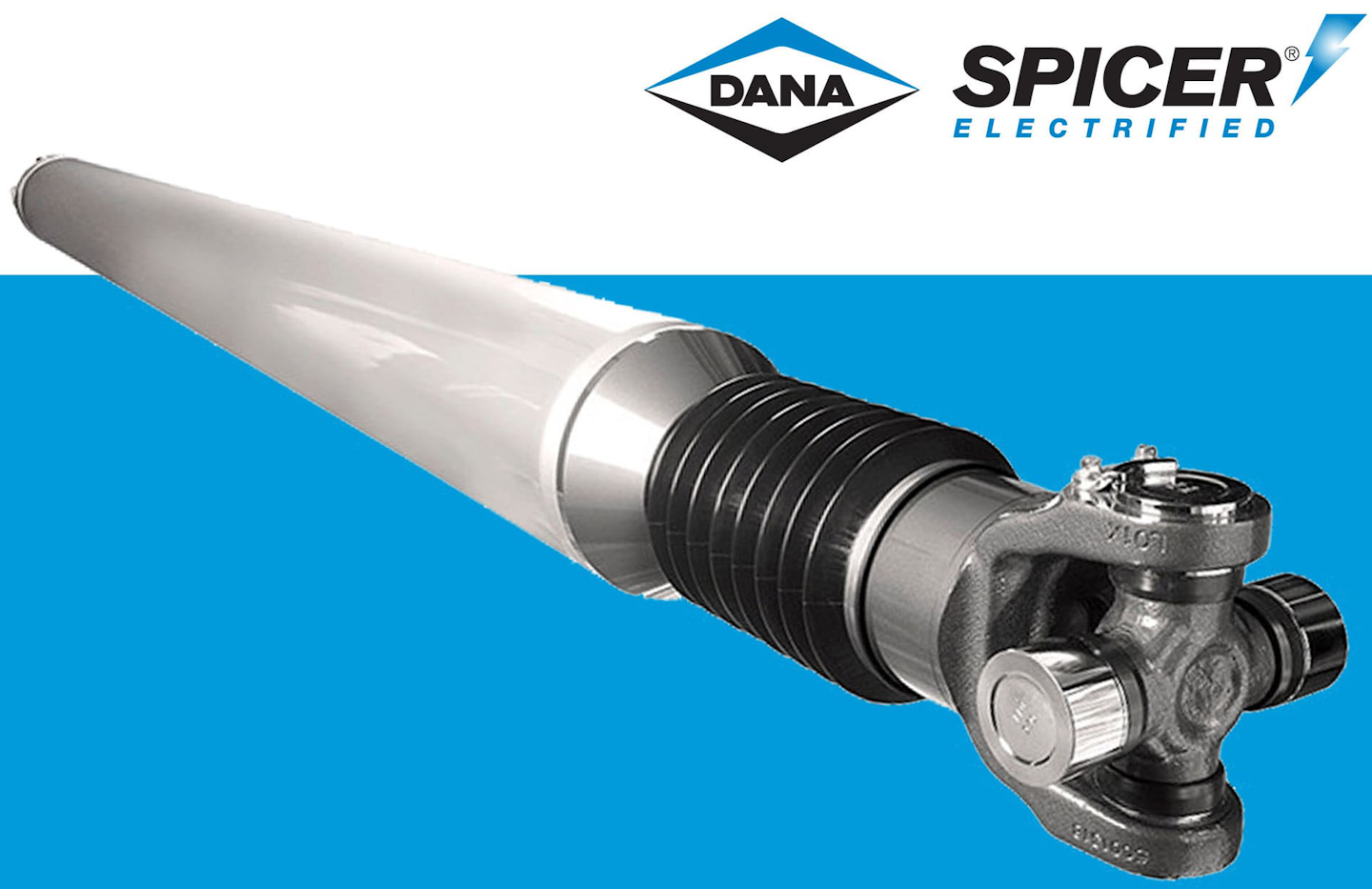 Enhancements to Spicer SPL Series driveshafts
Dana also announced enhancements to its Spicer SPL Series driveshafts for improved overall efficiency and increased performance. The improvements underscore Dana's ongoing commitment to its core driveline technologies, providing solutions for evolving customer application requirements, the company says.
"As a market leader in driveshaft technologies, Dana remains resolute in providing innovative products that meet emerging market needs," says Wallace. "Building on our legacy of engineering and manufacturing expertise, we continue to leverage our core driveline technologies, further optimizing performance and dependability."
The product enhancements will be available immediately for the Spicer medium-duty SPL series, while updates to the heavy-duty SPL series will be available in late spring 2020. All new driveshafts and related componentry will be completely interchangeable with current SPL product on the market.
Dana has made improvements to its medium-duty SPL series, including a maximum torque rating increase of up to 15 percent for the SPL170 model and an up to 7 percent increase for the SPL140 model. These increases are achieved and confirmed through rigorous testing, improvements in analytical techniques, improved processes and materials and extensive benchmarking of competitive products. The enhanced medium-duty SPL product will target multiple applications, allowing for rightsizing and the use of an optimum driveshaft, improving efficiency and cost, Dana says.
The company adds that the SPL170 and SPL250 heavy-duty series will incorporate another evolution of an improved, patented seal design, providing extended durability. The new composite sealing package will provide even greater resistance against environmental influence, further increasing performance life.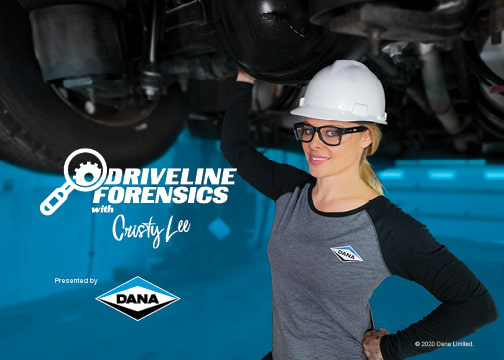 Tech training series to include axles
Dana Incorporated has broadened its "Driveline Forensics" commercial-vehicle technician training series to include maintenance and inspection videos covering front non-drive steer axles and rear-drive axle carriers.
"We are pleased to continue expanding the 'Driveline Forensics' series, providing valuable insights and training for commercial-vehicle technicians, whether they are new to the field or industry veterans," Wallace says. "These training courses serve an important purpose in sufficiently preparing today's technicians to service and maintain evolving vehicle and component technologies."
The "Driveline Forensics" series features short, easy-to-follow training sessions. While technical in nature, the videos are designed with a unique, fun style to keep the audience engaged and eager to continue with more videos in the series.
The latest training topic to be added to the series covers steer axle inspection.  New courses coming in March 2020 include steer axle lubrication, drive axle inspection, drive axle carrier assembly removal and drive axle carrier assembly prep and replacement.
Dana says it will continue to expand the "Driveline Forensics" series throughout 2020. The videos are currently available HERE under the Tools and Training tabs.
Dana is booth 3403 at the TMC annual meeting, Feb. 24-27.