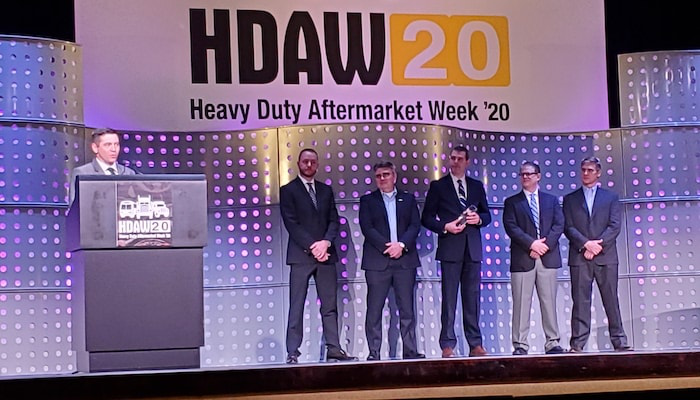 Attendance at Heavy Duty Aftermarket Week (HDAW), held in its first year at the Gaylord Texan Resort & Convention Center, Jan. 27-30, 2020, in Grapevine, Texas, increased 4 percent, compared with last year's event in Las Vegas.
Over four days, organizers say more than 2,400 attendees had the opportunity to participate in more than 1,500 newly-formatted One-on-One Meetings and receive in-depth product sales training from 31 companies. The new venue offered the industry its largest HDAW show space to date, with 143,000 sq. ft. and 76 incremental exhibiting companies. A sold-out Product Expo, that accommodated 87 new exhibiting companies, showcased high-quality products and the industry's newest technologies.
"Over the past year, the heavy duty aftermarket industry experienced rapid changes and continuous introductions to new technology disruptors. There has never been a more important time to gather the community under one roof for exclusive purchasing deals, peer-to-peer networking, education and product launches," says Sean Ryan, president and treasurer, Point Spring & Driveshaft Co., and HDAW'20 distributor chair.
"Our move to Texas promoted a focused and cohesive show environment, where attending professionals could conduct business without distraction from outside crowds," says Ryan says.
"We could not be more thrilled with our record-breaking turnout at HDAW'20. Every corner of the expanded Gaylord Texan show floor showcased incredible resources and innovative technologies shaping our industry and highlighted the abundant talent of heavy duty aftermarket professionals," says Tim Bauer, vice president, Eaton Aftermarket North America, and HDAW'20 distributor chair.
"We would like to thank everyone that joined us to gain the insights and tools they need to grow and transform their businesses. HDAW'21 is poised to be even bigger and we cannot wait to reunite the industry for more next year," Bauer says.