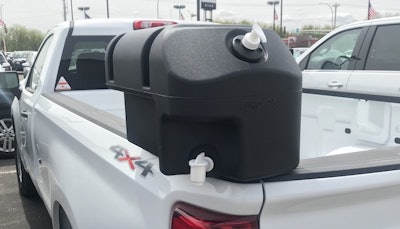 National Fleet Products (NFP) introduces portable and vehicle-mounted hand-washing stations.
According to NFP, these rugged, purpose-built product design allows water and hand sanitizer to be dispensed virtually anywhere, and application-specific hardware enables units to stand on their own, or to be mounted to a wide variety of vehicles.
The black or translucent white water-dispensing tanks come in 6.5 gallon and 10 gallon sizes and are made of durable, virgin polypropylene with an additive that makes them resistant to UV rays. An integrated removable soap dispenser serves as the cap to the filling port, and a separate cap is also available, NFP says.
The company adds spring-toggle water spigots are easy to operate, and because they automatically stop water flow when no longer depressed, they eliminate recontamination because there is no need to touch them again once hands are clean. The spigots are recessed and side mounted to protect them from damage.