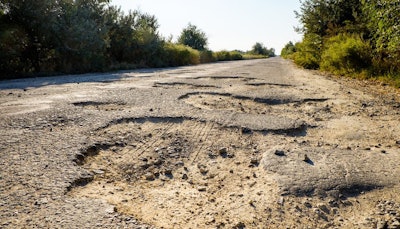 The destructive impact of COVID-19 has made its mark on another sector of the United States economy.
According to a recent report by Equipment World (sister publication of Trucks, Parts, Service), the federal Highway Trust Fund experienced a 79 percent drop in tax receipts last month compared to the same period in 2019. Equipment World says this drop, which equates to nearly $2.6 billion, is another hit to road construction plans across the nation that have been in jeopardy since coronavirus appeared in March.
Though May's losses are uniquely damaging, state departments of transportation (DOT) and national transportation experts have been fearing these funding losses since the coronavirus pandemic began.
In April, the American Association of State Highway and Transportation Officials (AASHTO) wrote a letter to Congress requesting $50 billion in direct emergency assistance for state departments of transportation. After May's tax receipt losses were announced, AASHTO Executive Director Jim Tymon said the reduction in funding was just one example of "how badly state transportation revenues have declined due to the COVID-19 pandemic."
Equipment World reports many states have already started scaling back road construction due to these funding losses, and without an influx of support from the federal government, states that due intend to proceed with highway construction will be expected to compete for funding from other public agencies. Even among states that appear to be proceeding with work that was already scheduled for this year, Equipment World reports "concerns are mounting for 2021 road and bridge work."
This will likely impact trucking's parts and service channel in a number of ways.
The steep reduction of tax receipts for the HTF highlights the dramatic contraction of freight volumes nationwide since March, and the impact vehicle utilization has on the aftermarket and dealer channels. AASHTO says vehicle miles traveled on all U.S. roads fell by nearly 40 percent in April 2020 compared to 2019 and May's numbers, when released, are expected to be similar.
Yet the shuttering of road construction also could provide a fortuitous benefit to parts and service providers — particularly if freight volume and fleet utilization bounce back faster than highway funding. Bad roads are good for parts sales.
The trucking industry has always been relied upon to keep America's economy humming and that burden of responsibility has only grown since March. Fleets nationwide continue to work tirelessly to keep food and essential goods moving and, despite a reduction in positive COVID-19 tests in some of the nation's early hotbeds, the pandemic hasn't abetted yet on a national scale to allow the country to fully return to the normal. This has forced fleets to extend and/or pause trade cycles, reduce expenses as much as possible and attempt to press on with the equipment they already have.
For some, who are proactive with their preventive maintenance and maniacal about their driver training, making do with the status quo can be managed. But for others — for the fleets and owner-operators who are desperate for any load they can get and will push their equipment as much as possible to fill their log book — a reduction in road construction means a potential increase in equipment breakdowns.
The federal HTF could become insolvent as early as September 30 if it doesn't receive a large influx of cash, and a new transportation bill introduced in the U.S. House providing more than $80 billion to states to offset tax losses remains a long way from the president's desk. (Equipment World reports another transportation bill released in the Senate last year to increase highway spending by 27 percent over the next five years still remains at the committee level.)
Regardless of what happens in D.C., it seems clear now is the time for parts and service providers to be reassuring voices to their customer base.
Think about the components on a truck and trailer most likely to be damaged by potholes and cracking highways. Make sure you have those components in stock, and your customers know it. Think about the duty cycles and routes your customers are running. Who is mostly likely to be impacted if repaving the busted up Main Street in your community is delayed another year? What if the bridge down the road isn't fixed this year after all? Or construction starts, but doesn't conclude? How will that impact your customers, and how can you be there to help them?
No one wants to drive on a bumpy, damaged road. But unless something changes soon, your customers may not have a choice. Make sure they know you'll be there for them when the going gets tough.