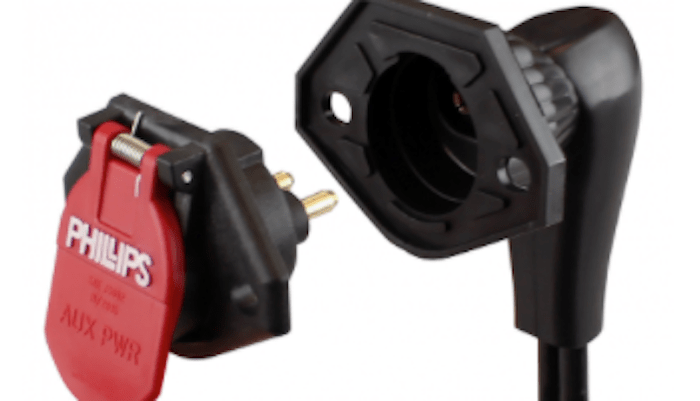 Phillips Industries has expanded its family of weather-proof Dual Pole QCS2 (quick-change socket) connections to include a straight back version, designed for both tractor and trailer applications.
For a weather-proof liftgate socket connection that offers quick and easy socket replacement without the need to re-wire, the Dual Pole QCS2 is the only solution available on the market today, the company says. Phillips' Dual Pole QCS2 has superior corrosion protection for dual pole applications such as liftgate systems.
Any open connection on a vehicle is susceptible to corrosion, including the liftgate connection. And build up at the liftgate electrical union can be even more devastating because it requires a larger amperage draw than in the 7-way, increasing the chemical reaction of corrosion at an exponential rate. This can "choke" the charge to the liftgate batteries, leading to possible downtime if there isn't enough power to cycle the liftgate or even a thermal event. The Phillips Dual Pole QCS2 helps to avoid these problems, the company says.
The molded straight-back harness boot with a sealed inner cavity is completely molded to the liftgate harness cable. It grips the easy-to plug-in bulleted socket and holds it in place to block moisture and contaminant entry where they join together. The socket housing is non-corrosive, and offset pins prevent accidental arcing by grounding the connection before power begins circulating through the system.
In addition to the new straight back version, Phillips is also introducing a complete Dual Pole QCS2 installation kit for tractors with everything needed to upgrade from a zinc die-cast liftgate connection to a superior weather-proof, corrosion-resistant one.
The Dual Pole QCS2 straight back version is available from Phillips authorized dealers
for dual pole connections on the tractor or trailer side, with a 48-in. blunt cut battery cable harness offered with either a 2-gauge or 4-gauge option.