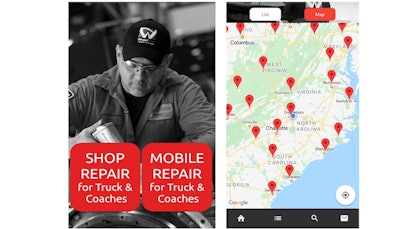 WheelTime is launching a new mobile app designed to better serve truck and coach customers in need of consistent, reliable and trustworthy repairs.
The new app allows users to find the nearest WheelTime service location, returning the name, address and phone number of the location as well as directions and a link to their website. The services and amenities offered at each location also are shown.
"As we enter the busy and critical holiday season, the WheelTime app will help truck and coach companies and operators keep their equipment running," says Jill Gringrich, WheelTime Network vice president and managing director.
"The app will help them find a trusted network service provider who is focused on delivering the WheelTime promise of proactive, reliable communication, fast turns, and repairs done right the first time," Gringrich says.
App users have the choice of selecting either a shop or mobile repair on the home screen. The map view will show the location of the more than 150 WheelTime locations across the U.S. and Canada, which can help users plan for repairs or maintenance along their scheduled route.
The WheelTime app can be downloaded from the Apple Store or Google Play.