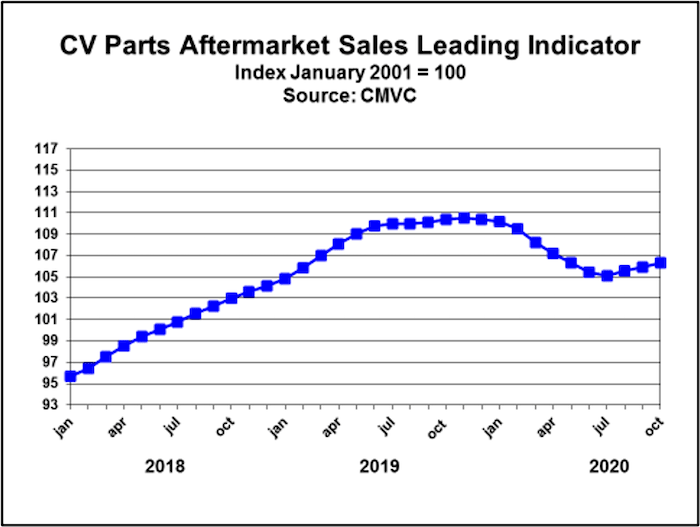 Commercial Motor Vehicle Consulting (CMVC) announced Tuesday its Parts Aftermarket Sales Leading Indicator (PLI) recently increased 0.4 percent in October.
This was the third consecutive monthly increase for the PLI, which increased by 0.3 percent in September. The index had previously decreased for eight consecutive months.
CMVC says the continued uptick signals a steady parts aftermarket sales recovery in the coming months, but notes October 2020's level is still below October 2019 levels, which indicates aftermarket parts sales still have not fully recovered to year ago levels.
"The re-opening of the economy spurred trucking activity, but the freight recovery has been uneven as industrial production remains below year levels, demand for oilfield services weak due to depressed new drilling for oil/gas and some service industries remain crippled due to cautious consumer behavior and government regulations," says Chris Brady, CMVC president. "An assumption by many analysts that the service sector is not a large consumer of transportation services is untrue, as some service industries, such as restaurants are large consumers of transportation services as food is a perishable good and restaurants do not have large storage space for inventory resulting in frequent deliveries to restaurants.
"In spite of an uneven freight recovery, Class 8 truck utilization has recovered to within a normal operating range, implying the Class 8 truck population is depreciating at normal rates stimulating parts aftermarket sales."