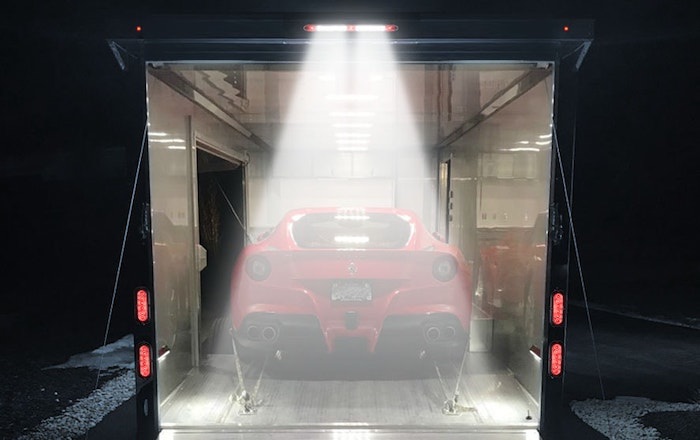 Optronics International has introduced its new MCL80RCB LED Combination ID Light Bar & Utility Light.
The new lamp enables a vehicle's light bar to serve double duty as a utility and scene light, whether it's mounted high or low. With a mounting position high on the back of a vehicle, Optronics says its new lamp is able to illuminate a wide area below and behind it with white LED light. Mounted on trailers where the ID bar is close to the ground, the lamp provides greater visibility and safety with a tighter and more intense beam pattern.
Generally, when working in, on or around the rear end of a vehicle in lowlight conditions, separate utility or work lamps are needed to light the work area. Extra lights require mounting, routing holes, wiring and careful lamp placement so as not to interfere with vehicle operation, doors and personnel.
Yet Optronics says using the ID light already required for vehicles measuring 80 in., or more in width as a platform, the MCL80RCB LED Combination ID Light Bar & Utility Light incorporates two seven-diode white LED utility lights. The thin, streamlined body of the lamp measures just 15.5 in., in length, 1.313 in., in width and 0.75 in., in thickness, including its attached, closed-cell foam gasket.
"The LED Combination ID Light Bar & Utility Light offers optimal convenience and minimal complexity for those who must work around the rear of vehicles in darkness," says Marcus Hester, vice president of sales and marketing, Optronics International. "With two utility lights and a standard ID light, our new MCL80RCB is actually three lamps in one."
The surface-mount, hardwired lamp is easy to install and its integrated utility lights can be operated with a standard switch, the company says. The lamp requires just two fasteners for mounting and one wiring hole with a 0.59-in., diameter.
The MCL80RCB LED Combination ID Light Bar & Utility Light is expected to be in stock and available for shipping in the first quarter of 2021, the company says.