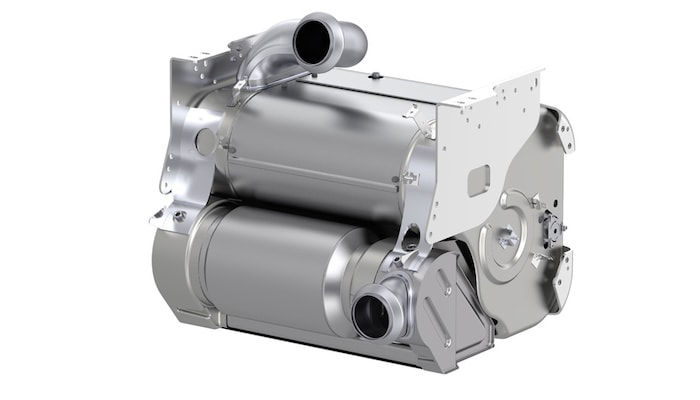 Dinex this week introduced its OneBox exhaust solution, used on Freightliner and Western Star trucks, to the North American aftermarket.
Dinex says its OneBox exhaust solution is a true game changer for the industry. Introduced with a three-year warranty, the patent-pending OneBox contains high technology catalysts and particulate filters in a quality equivalent to or better than OE solutions.
Developed through a two-year long collaboration between Dinex's OEM and aftermarket developers, OneBox comes with a patent-pending combination of diesel oxidation catalyst, selective catalyst reduction technology and particulate filters — all components of a superior quality superseding existing solution for the OE market.
And thanks to its single solution, Dinex says OneBox reduces the need for time-consuming retrofitting of multiple spare parts — paving the way for not only lower emissions but also a better fuel consumption.
"We are thrilled to launch our first complete aftertreatment solution for the American aftermarket. We firmly believe that we are introducing a quite unique product, which also elevating Dinex into a new level as a one-stop-supplier," says CEO Torben Dinesen, Dinex Group.
Dinex says its investment in the OneBox solution is the largest and most complex aftermarket R&D project ever conducted in the history of the company. The company also has dedicated a production line in Dublin, Ga., to assemble to new solution in the most optimal and efficient way.
"After being a part of Dinex for 30 years, it is a great pleasure to witness the result of such a large scale R&D project for our aftermarket clients. As with our OEM emission systems, the OneBox reduces NOx and other emissions down to a level, where the exhaust air is cleaner than the air we breathe," says Dinesen.