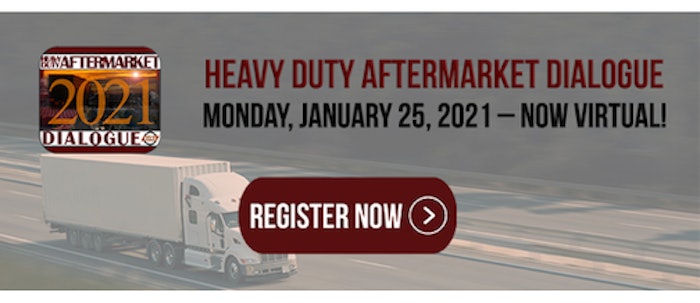 The Heavy Duty Manufacturers Association (HDMA) and MacKay & Company, organizers of Heavy Duty Aftermarket Dialogue, have announced the panelists for their "The Real World View" discussion at this month's event.
Led by Chris Patterson, retired CEO of Daimler Trucks North America and an independent director, HD Aftermarket Dialogue's real-world view of the industry will also feature Friedrich Baumann, president, Sales, Marketing & Aftersales, Navistar; and Al Dragone, FleetPride CEO. The session will be held at 10 a.m. ET, Monday, Jan. 25.
"The Real-World View" will focus on how the aftermarket is affected by today's market conditions. Organizers say panelists will provide insights into short- and long-term challenges and opportunities, how the aftermarket structure and function will transform with new vehicle and business technologies, and how to help existing employees and new hires adapt and grow in the new era.
HD Aftermarket Dialogue will immediately precede the fully virtual Heavy Duty Aftermarket Week (HDAW) from Jan. 25-28, 2021. HD Aftermarket Dialogue is designed to bring together thought leaders from all segments of the aftermarket who can share applied knowledge on the state of the marketplace and what steps are necessary to be sustainable and prosperous as the industry evolves.
For more information, and to register, please CLICK HERE.