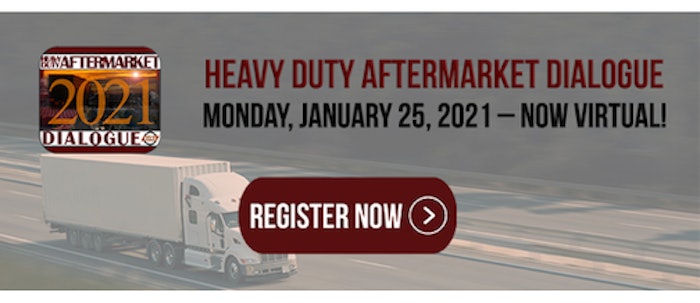 Organizers say registration is still open for the first ever Heavy Duty Aftermarket Dialogue, set for Jan. 25.
Heavy Duty Aftermarket Dialogue is a joint production between the Heavy Duty Manufacturers Association (HDMA) and MacKay & Company. The one-day industry outlook conference is specifically directed toward the heavy-duty aftermarket supplier industry, intended to provide an in-depth view of the prospects for the global, heavy-duty industry's aftermarket component for the next five years.
HD Aftermarket Dialogue has long served as the lead-in to Heavy Duty Aftermarket Week's (HDAW) on-site festivities and this year's virtual event will attempt to do the same. Organizers say the agenda has been carefully designed to briefly touch on the events of the past 12 months and then provide detailed analysis on how the events of 2020 will impact 2021 and beyond.
"I don't think anyone is itching to go back to and talk about 2020, but we do have to say 'this is what happened and this is how our industry has reacted,'" says John Blodgett, vice president, sales and marketing, MacKay & Company, and one of the speakers in this year's HD Aftermarket Dialogue schedule. "The bigger thing for us is the outlook. We want to look at what is going on now and what is going to happen in 2021."
Scheduled for 10 a.m. to 2:30 p.m. ET on Monday, Jan. 25, HD Aftermarket Dialogue's educational sessions will provide that outlook in six detailed sessions:
A real-world view of pandemic strategies, successes and failures, and looking toward what's next
What to expect of the 2021 DC administration
Macro-economic trends that will impact the industry
MacKay & Company's Truckable Economic Activity report
Technology changes forced into the distribution chain by the pandemic and what will stick
The fleet perspective on changes in the aftermarket and lasting lessons from the pandemic
Blodgett says underrated feature of HD Aftermarket Dialogue that deserves to be highlighted before this year's event is its high-level, nationwide market analysis. After the events of the last 12 months it can be easy for business owners to look inward, focusing exclusively on the challenges of their own operations. But the challenges wrought by COVID-19 are universal; taking time to understand how the pandemic has disrupted the entire industry can help business owners to better understand how they are fairing, and how they can continue to battle through troubling times.
Heavy Duty Aftermarket Dialogue enables attendees "to look at the entire country as opposed to just your business or your region," Blodgett says.
Organizers also have updated the pricing structure for this month's event, due to the virtual format and the accessibility it provides. Organizers says special, first-time attendee pricing is $250, and HDMA and/or MacKay & Company members receive a $100 discount over the non-member rate.
For more information, and to register, please CLICK HERE.