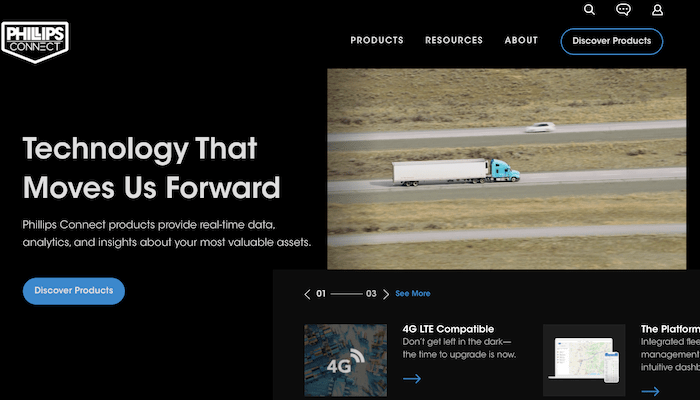 With the launch of its website, Phillips Connect has unveiled its smart-trailer solution to the commercial vehicle industry.
A tour of the website shares the results of a 5-year vision to simplify smart trailer technology creating unmatched cost savings and operational efficiencies for fleets, the company says.
Phillips Connect's Smart7 integrates its full-featured 4G- and 5G-ready GPS with multiple trailer health sensors and controllers into their 7-way nose box. One device is all that's needed to connect to tractor power, monitor trailer location, status, dozens of trailer health sensors — and all are displayed in real-time with just one app.
Depending on Individual fleet needs, Phillips Connect has a total solution that will deliver cost saving and generate revenue. The website includes a complete list of Phillips Connect smart trailer capabilities and five example ROI categories from its extensive library of more than 100 ROI saving and revenue opportunities built by experienced fleet maintenance managers to estimate their realistic and unbiased investment gain.
"Five years ago, we assembled a small group of dedicated Phillips Industries engineers to lay the plans for creating an all-in-one device that would deliver all the trailer metrics a fleet might want to monitor on all their assets," says Rob Phillips, founder and CEO.
"Today Phillips Connect has fulfilled our dream of creating the most powerful smart-trailer solution in transportation, and we now have dozens of customers who are loving what we are doing," Phillips says. "We've upgraded just about everything this past year to make our customers massive fans, from our expanded product range and best in class cloud services to our new website. We're serious about making trailers smart, and we're as committed as a company has ever been towards achieving its mission."
Phillips Connect products are the result of nearly a century of experience within the transportation industry. The Phillips name is synonymous with quality truck and trailer components designed to bring solutions to vehicle operators, the company says.
"Phillips Connect was never going to be satisfied being just another telematics provider," says Jim Epler, general manager.
"As trailer telematics capabilities proliferated in the industry, we heard from fleets of their aversion to managing multiple data streams from multiple suppliers with multiple subscription plans," Epler says. "We were relentless, and our focus resulted in the creation of a single platform that could work with all suppliers' sensors under one data plan that gives our fleet customers a simple way to avoid downtime surprises and to realize the most from their assets."