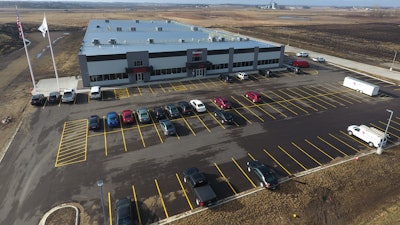 Minimizer says it is nearing the end of a long road, and 18 months after breaking ground in Owatonna, Minn., the High Bar Brands company is operational and just about fully moved into its new facility.
"The entire team effort involved with making this a success is impressive and could not have happened without the commitment from everyone in all departments," High Bar Brands Vice President of Operations Jim Richards says.
Two molding machines and one robot are all that remain at the company's old facility in Blooming Prairie. Richards says those last few pieces should be in place in Owatonna by mid-May.
"I think the most impressive thing about the whole move is that we set sales and shipping records throughout the course of it," Richards says. "That's amazing, and it's a testament to the team we have in place, from sales to operations to administration to customer service."
The new facility brings Minimizer under one roof. Previously, the "Tested & Tortured" brand was spread across three campuses in Blooming Prairie.
"Having everyone in one facility really benefits efficiency of product flow," Richards says. "This new set-up drastically reduces the time and space that product travels from raw material to order shipped."
Richards also believes the move will considerably improve company communication.
"Communication flow in all areas — from daily work distribution to company vision communication — is significantly impacted in a positive way," Richards says. "Employees now have better access to their supervisor, HR and other departments."