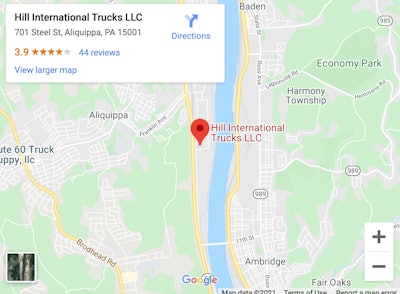 Hill International Trucks purchased Ralich Truck Center, located in the Aliquippa Industrial Park along the Ohio River, earlier this year.
The 12-bay facility will serve as a parts and service location providing award winning service to all makes and models of medium-, heavy- and severe-duty vehicles. The location will also be a new hub for the Hill Mobile Maintenance team, further expanding its service area. The new facility also provides Hill International with access to more than 5,500 prospects and potentially 134,000 vehicles in a 50-mile radius, according to RigBig Business Intelligence.
Although the company does not plan on selling trucks off the lot immediately, they do plan to make that move in the coming years. Until then, Pittsburgh customers looking for new or pre-owned trucks can continue to shop at their full-service dealerships in Eighty Four, Pa.; East Liverpool, Ohio, and Wheeling, W.Va., while enjoying the new convenience of a Pittsburgh local parts and service location.
Hill International Trucks, founded in Lisbon, Ohio, in 1897 is one of the oldest auto/truck dealers in the United States. Led by fourth-generation owner, Steve Hill, the company has been expanding despite the difficult economic climate. The addition of Hill Aliquippa is the first of two expansions the company has announced for 2021. Hill International Trucks is also in the process of constructing a new, state-of-the-art, and eco-friendly full-service dealership in St. Clairsville, Ohio.
Between the current workforce and the anticipated short-term growth, the company is confident that their new Aliquippa location will provide 45-50 local jobs.
Ralich Truck Center was well known in the local transportation community for providing top quality service while simultaneously offering the unique feel of a family-owned company. In pursuit of this goal, Ralich Truck Center became an associate dealership of Hill International Trucks in 2011 which was the beginning of the relationship between the two companies.
Hill International Trucks says it looks forward to joining the Pittsburgh community. Besides creating jobs for today's work force, the company will also build relationships with local high schools, career centers and job placement service centers.
The existing Hill International Truck dealerships are well known in the communities which they reside for their dedication to career advancement of "tomorrow's work force," the company says.