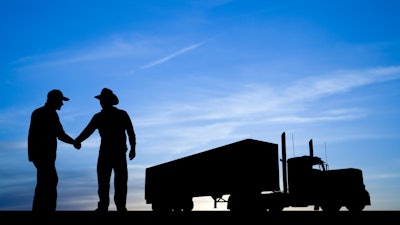 One reality of being a franchised truck dealer is accepting that some customers with whom you do business are also likely to compete against you in the marketplace. It's not a common challenge — most customers are exclusively that: customers — but depending on the size of a dealer's customer base and its breadth of services, customer/competitor overlap finds its way into most dealer operations.
That's okay. Not every competitor needs to be an enemy. That's doubly true when they net a dealer significant sales revenue.
Yet acknowledging that some customers may also be competitors doesn't mean dealers are powerless against this competition. Dealers stand atop their markets for a reason. Most competitive customers often target market segments overlooked or underserved by dealer partners, but dealers still have the authority to challenge that business if they so choose.
The questions dealers therefore must answer: Is such an action worth the effort? When does it make sense to rebuke a customer, and when is it best to leave well enough alone?
Who is competing against you?
Dealers are most likely to see competition from customers in specific segments but not across all areas of their business. Parts and service draws the most competition, as independent service shops may rely on dealers to acquire certain OE proprietary components they then use in repairs that also could be performed by a dealer.
At Maxim Truck and Trailer, Vice President of Parts Operations Steve Young says he doesn't consider the independent parts distributors and service shops he sells to as direct competitors because they rarely prioritize the same customer segment as the dealer group. Young says when those customers come to Maxim he makes sure they receive prices that wouldn't enable them to beat the dealer on the open market — but he also doesn't price them quite as high as he would another OEM store.
Another area where customers can pop up as competitors is the lease and rental market. The well-known national L&R fleets are obvious examples here, but many smaller, regional carriers also offer L&R services.
RELATED: The importance of comprehensive customer screening in lease and rental operations
"That's the best example of where we see [customer competition]. Our dealership group has a full-service leasing and rental business and we also have customers who buy from us who run their own regional lease and rental companies," says James V. Gavaghan, president, commercial group, Bergey's Truck Centers.
How much competition do they create?
Discovering a customer may be swimming in your market might be a body blow at first, but it's rare to find a customer that takes on its local dealer directly.
Gavaghan says Bergey's has discovered a large majority of the fleets it targets in its L&R operation are different from the top targets of its truck buying and L&R service offering customers. He says the dealership's L&R business is nimble enough to serve carriers of all sizes but primarily focuses on larger fleets. The company's customer competitors generally don't have as many units available, and thus don't shoot quite as high.
"We believe the market is big enough for both of us to serve it," he says.
That sentiment is shared at Rihm Kenworth, says Director of Service Steve Toninato.
With eight locations covering two states, Toninato says there are several service shops within Rihm's area of operation that buy parts from the dealer group to use in their service bays. Toninato says Rihm would love to hang every part it sells but understands that's likely not feasible. Fortunately, he says Rihm successfully captures nearly all warranty, engine, aftertreatment and proprietary service in its AOR, which makes it easier for the dealer to stomach losing a smaller margin repair to a part-purchasing competitor.
RELATED: Manufacturers call on Biden to fix chip shortage
How to manage a competitive customer?
A dealer doesn't have to do anything with a competitive customer unless they so choose. With parts, dealers are in consensus that tiered pricing structures work best. The dealer remains the best price option for OEM proprietary components and if a customer still chooses to purchase at a higher price from an independent distributor, the dealer still makes a profit in the sale to the independent store.
"There are a lot of customers who come to us for everything; there also are customers who might go somewhere else for everything," says Young. "This way we still make the sale."
As for service, some dealers have success meeting with independent shops and suggesting the two occasionally extend work to one another based on their expertise, shop load and uptime capabilities.
Rihm Kenworth encourages its independent service provider customers to direct engine, aftertreatment and advanced driver assistance system (ADAS) work back to the dealer due to their complexity and the dealership's expertise, says Toninato. In turn, Rihm will occasionally lean on an independent shop to complete a PM or simple repair if the dealer is unable to do so in a timely manner.
"If they have a niche, its typically in an area where I already have trouble competing," he says. "I can try to compete on oil changes but I'm never going to be as cheap as an independent shop."
Dealers also can take a more hands-off approach. Gavaghan says because there's very little customer overlap between Bergey's L&R customers and the end users targeted by its truck buying customers, the two parties basically stay out of each other's way.
"There are enough customers out there that competitors can exist in our market without us having a tenuous relationship," he says.
Finally, it's important to keep an eye on a customer's actions once a tactic has been defined. Customers may be unlikely to directly challenge a dealer on whom they rely, but that doesn't mean it will never happen. Customers have business goals too.
As Toninato says, "If we send a few customers their way and they don't send any back, maybe this isn't the relationship we expected it to be."