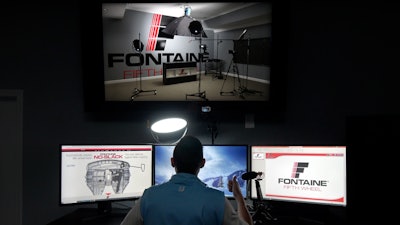 Fontaine Fifth Wheel has developed an in-house live video streaming studio designed with the Fontaine customer in mind.
"Our vision is simple: we want customers to have real time access to fifth wheel experts at Fontaine," says Buck Buchanan, president, Fontaine Fifth Wheel. "The videos and live events we host will feature product demonstrations, maintenance training, sales training and really just about any subject related to fifth wheels; there is no limit to the possibilities."
"Partnering with our customers to design and produce custom training spots will not only make training programs more effective, but it will also maximize fifth wheel performance," adds Paige Petroni, vice president, sales and marketing.
The company says interested parties who would want to partner with Fontaine to enhance their training program can do so at the company's website by completing a brief online form. It only takes a minute to submit your request, and the company says a representative will then contact you to determine which studio solution best fits your needs.