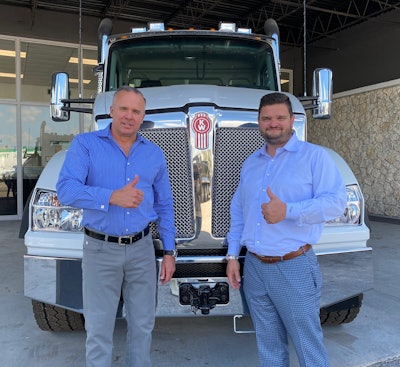 Todd Hays and Eric Johns have teamed in a new partnership to power Kenworth of South Florida into a promising future with continued growth, excellent Kenworth truck offerings, and expanded parts and service support for fleets and truck operators.
"We are now partners," says Eric Johns of Hays, Kenworth of South Florida dealer principal, who purchased the dealership in 2006 and worked there for six years in the 1990s.
"We're going through a remarkable phase now, and are well-positioned for future growth. We're doing some great things for our customers," adds Johns, who recently bought into Kenworth of South Florida.
Johns' confidence is well founded given his own accomplishments and the growth path engineered by Hays.
Starting with a base location in Fort Lauderdale, Hays invested in the business and expanded Kenworth of South Florida by opening new full-service locations in Fort Pierce (2012), Riviera Beach (2014), and expanded the company's reach to Florida's west coast to Naples (2015). None of the locations is more than 90 miles from another.
"Multiple locations are a key to success," says Hays. "We can win businesses with large accounts with branches throughout South Florida and support them with parts and service. We can also go after each unique individual market, because they're all so diverse and different."
RELATED: Kenworth launches the T680 Next Gen
Johns' career arc also pivoted in 2006 after his father sold the family trucking business. Johns, who had worked there since high school, opened a heavy-haul business and found that much of his cargo were trucks headed for sale or auction. He soon discovered his passion for sales and transitioned to a used truck dealership.
"At one point, our family was one of Kenworth's biggest customers in the Southeast," says Johns, who held various roles at his father's company. "When my father sold, I realized very quickly I wanted to sell trucks." He joined a Kenworth dealership in the Southeast and quickly grew sales — particularly vocational sales — earning recognition as one of Kenworth's top vocational dealer salespeople for several years.
Despite his success, Johns says he hungered for a bigger piece of the action. "My dealership experience basically gave me a doctorate degree in the ins and outs of how a dealership really works," he says. "I wouldn't change it for the world.
"It taught me how customer retention is, of course, the key to everything. Customer satisfaction needs to be at the highest level. From the sales side, from the fixed operations standpoint, I learned how to run a dealership. I learned what works and what doesn't work. I learned what the absorption rate meant and how that rate applies," he adds.
RELATED: How dealers withstand new truck sales cycles
Hays saw the value offered by teaming with Johns, and the two formed plans to partner. And Johns saw the opportunity to someday buy out his partner. "We are two people very much involved in the business, and Eric aspires to buy it out one day," says Hays. "It's a nice fit."
"We both understand that until somebody sells something, nothing happens, whether it be a truck, a part off the shelf or a service ticket. Todd is one of the best salespeople I've ever seen, but he's also a great fixed-operations guy. He runs his company very well and is very diligent in his work," adds Johns.
"What I bring to the customer relationship is an ability to look at things from the customer's perspective … and I understand that uptime is everything," says Johns.