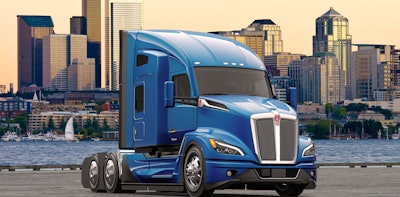 Kenworth Truck Company introduced its T680 Next Generation during a virtual launch Thursday in Seattle.
Since its introduction in 2012, Kenworth says its flagship T680 has been known and respected in the industry as a driver's truck, known for its bold, innovative aerodynamic design and an impressive interior styling.
"This truck builds on the excellent foundation of the current T680 to deliver the next generation," says Laura Bloch, Kenworth assistant general manager for sales and marketing. "[It] has been designed with our customers and drivers in mind."
Kenworth Chief Engineer Joe Adams describes the updated model as the most aerodynamic truck in company history, noting if the original T680 set an industry standard, with this year's update Kenworth "is going to set the standard again." Improved fender and side fairing designs have netted some fuel economy advantages, while new 28 in., adjustable behind cab fairings are designed to reduce drag between a cab and trailer without causing any access issues for drivers during daily inspections. Other major aero updates include a narrower hood and enhancements around the wheel wells and, overall, the new model is 6 percent more aerodynamic than its predecessor.
But the truck's exterior improvements were not just made with aerodynamics in mind. High-visibility LED side-turn indicators are now found on its fender. Kenworth says the lamps increase visibility for other vehicles on road so other drivers "make sure they can see what you're going to do," says Kenworth Design Director Jonathan Duncan.
The new T680 Next Gen also comes with a variety of in-cab advancements, most of which the Kenworth team says were developed based on driver feedback.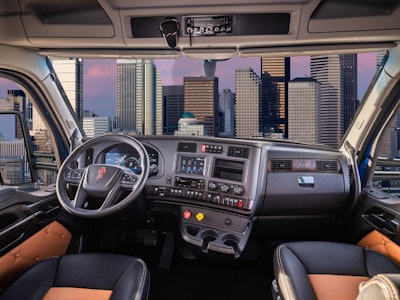 The cab features the new, 15-in., high-definition, fully Digital Display — the largest standard factory display available in any North American truck to date. And Kenworth says the design is easily adjustable to enable drivers to match their preferences, while also automatically displaying critical content.
Additionally, the company notes the new T680 with a Diamond VIT interior has a rich madrona insert in the door pad with black stitching to match the black door. The Diamond VIT sleeper interior also has fine black Diamond panels with madrona stitching — also offered on the leather-wrapped steering wheel. And the T680 Next Gen with 76-in., high-roof sleepers can be spec'd with the optional Kenworth Cargo Shelf — a 5.5-in., storage shelf with multiple secure tie down points, the company says.
Kenworth says T680 Next Generation is designed to optimize performance in line haul, pickup and delivery, and regional haul operations. Available in day cab, 40-in., 52-in., and 76-in.-sleeper configurations, the T680 Next Gen is standard with the proprietary Paccar powertrain featuring the 2021 Paccar MX-13 engine, Paccar 12-speed automated transmission and Paccar 40K tandem rear axles.
"The Kenworth T680 Next Generation has great innovations, new technologies and outstanding fuel efficiency, but this truck is all about the drivers," adds Bloch. "This is the next generation of The Driver's Truck and offers the full Kenworth Experience."