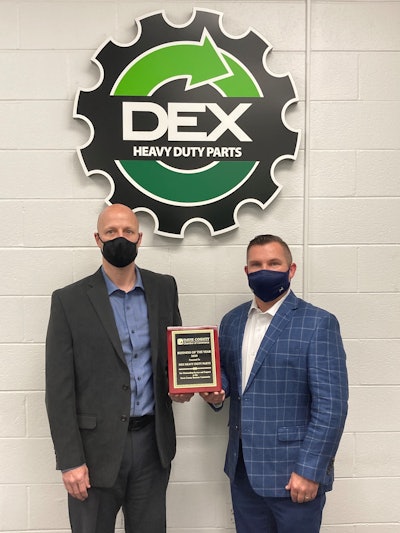 The Davie County Chamber of Commerce awarded the Advance, N.C., location of DEX Heavy Duty Parts LLC, a Volvo Group subsidiary and leading supplier of recycled, renovated and surplus medium- and heavy-duty truck parts, as its 2020 Business of the Year.
"DEX is very proud to be recognized by the Davie County Chamber of Commerce," says Darin Redmon, director of operations, DEX Heavy Duty Parts. "Our business and our employees are committed to the community in which we work, and we look forward to continuing to find ways to be involved in community partnerships and projects. I commend Carey Hubbard, the Advance site manager, and the entire DEX staff for this accomplishment."
DEX offers new life to trucks by offering recycled and renovated parts to second- and third-generation truck owners, and through the Volvo Group, is the only OEM that has a complete lifecycle channel for its products, the company says.
The 2020 Business of the Year Award was presented April 15 during the State of Davie and 51st Davie County Chamber of Commerce Annual Meeting. The Chamber's board of directors chose DEX as the Business of the Year winner from a group of nominated businesses.
"DEX is an important part of our community," says Josh Hanes, chairman of the Davie County Chamber of Commerce Board of Directors. "They seek opportunities to use other local business. They support the United Way of Davie County, Ignite Davie and other local community groups. They have worked with Davidson-Davie Community College and Davie County Schools for continuous education, training and career days."
The Volvo Group invested $2.6 million in 2015 into the renovation of a former textile storage facility in Advance. The 210,000 sq.-ft. facility is located on 38 acres near Interstate 40, enabling easier transportation of materials. To keep up with growing demand, DEX also opened a second location in Oklahoma City in 2019.