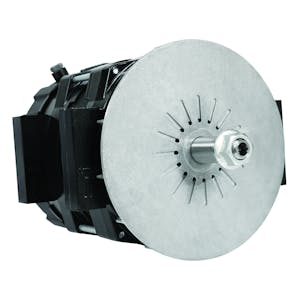 Prestolite Electric has again been awarded standard position by Blue Bird Corporation to supply IdlePro Extreme alternators from Leece-Neville Heavy Duty Systems. Blue Bird All American Rear Engine (RE) Diesel and CNG-powered school buses will be offered with IdlePro Extreme 350- and 420-amp alternators as standard and optional equipment for models utilizing a Cummins 2021 engine, according to an announcement.
"Blue Bird buses have a strong reputation for performance, serviceability and value — just like Prestolite Electric," says Allan Vincent, OEM sales director, Prestolite Electric. "We're incredibly excited to be announcing another standard and optional position alternator. Our longstanding partnership with Blue Bird helps to develop alternators and starters that meet and exceed the school bus industry's unique charging system requirements."
The Cummins 2021 engine designs found on Blue Bird All American RE Diesel and CNG-powered buses require a specific approach to its corresponding charging systems. This particular bus model and engine combination utilizes electric fans cooling the radiator that are powered by the IdlePro Extreme alternators.
For applications utilizing a Cummins L9 or B6.7 300-horsepower engine using a six-fan cooling system and the lower horsepower engines of the same design with A/C will be offered with the IdlePro Extreme 350-amp alternator as standard. For the bus models running a 2021 Cummins L9N engine — a design known to produce more heat and a corresponding eight-fan cooling system ­— the IdlePro Extreme 420-amp alternator will be standard equipment.
The company says the IdlePro Extreme 12V alternators deliver unmatched performance in demanding environments.
Features include:
12V, 280-, 325-, 350- and 420-amp outputs available in a best-in-class brushless design
Minimum of 90 percent of a unit's rated maximum output at engine idle
Remote Sense capable — returns battery to full charge between stops and reduces overall charging time
Auxiliary Draft Cooling design — special fan and front housing design and integration for temperature control of the front bearing. Front bearing is kept 10°C cooler as compared to traditional external fan designs
Rated up to 125°C — ideal for the high-temperature environment commonly found in school bus applications
Premium, eCoated heavy-duty design offers reduced corrosion and improved vibration resistance
Isolated Ground Technology reduces stray voltage currents traveling through the engine, helping to reduce component wear and eliminate potentially severe electrolytic damage
Assembled in America 
All new, no core