Just when it looked like America had a handle on the COVID-19 pandemic, an increasing amount of news coverage now is focusing on the Delta variant. For more than 16 months the trucking industry has had to adapt to everything COVID-19 has thrown at it.
Despite personal distancing, masks, travel restrictions and non-essential businesses being closed by the government, among other hurdles, dealers and distributors have not let the pandemic stop them from successfully expanding.
Mike McMahon, president and CEO, McMahon Truck Centers, distills nearly a year and a half of COVID-related events with a line from Charles Dickens' "A Tale of Two Cities": "It was the best of times; it was the worst of times."
The resiliency of dealers and distributors during the pandemic has actually made them more bullish about the trucking industry and its importance in keeping the country running.
Expansion in the time of COVID
In April 2020, McMahon Truck Centers acquired Kentuckiana's Premier Truck Center for the greater Louisville, Ky., region. A few months later, in September 2020, McMahon Truck Centers opened a second Columbus, Ohio, location.
Bringing both deals across the finish line required quick implementation of COVID protocols to maintain forward momentum.
"Health and safety were paramount as both deals had unique challenges. The Kentuckiana's Premier Truck Center acquisition required coordinating with an all-new leadership team and the Columbus facility expansion required all interior workspaces to be configured from scratch," McMahon says.
McMahon Truck Centers had been working on its IT infrastructure when the pandemic hit which made it easier to transition the business to a remote work environment.
"For years, our strategic plan has been to find IT solutions that are scalable," McMahon says. "When COVID happened we already had the infrastructure to support remote working, so employees who used laptops in the office could use them anywhere. Employees that had shared workstations were easily transitioned during COVID to separate unique work solutions. We prioritized what needed to be done in our facilities, as well as what work could be done remotely."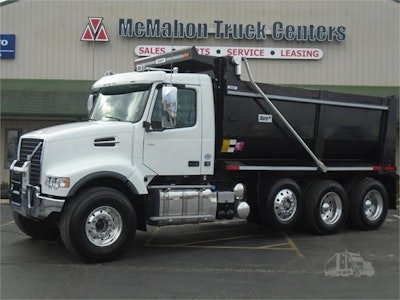 Mike McMahon and his brother Brad McMahon, chief operating officer and co-owner, say that while the pandemic took a devastating toll on the economy, as the months rolled on, it became clear that trucking was essential and so too were the support services to maintain the nation's fleets.
What's more, by the 4th quarter of 2020 it was becoming clear that state and federal governments were approving massive stimulus packages that were in clear support of bolstering the economy. "As the momentum continued," says Brad McMahon, "we felt more confident, we began hiring more people and were increasing inventory towards the latter part of the year."
Four Star Freightliner completed its new location in Valley, Ala., in January of 2020, before the pandemic hit, so its expansion challenge came in drumming up new business for the store.
"The main struggle we faced was growing a new location during the pandemic. Since visiting was limited, Amanda Granger, our social media manager, did a great job of getting information to our customers around our new location," says Scott Dixon, director of operations, Four Star Freightliner. Efforts includes doing some digital geo-fencing to serve information to where our potential customers would be, he adds.
"We had to be diligent about making sure our employees and customers were safe during this time. We put in sanitation protocols to ensure the employees safety along with our customers," Dixon says. "I feel it helped [customers] feel comfortable bringing their truck to us or coming in to buy parts."
FleetPride says beginning in the second quarter of 2020, COVID began creating barriers to its expansion strategy by limiting critical resources for all support team members.
"Like many others, we too were impacted by travel restrictions, the implementation of necessary precautions for the safety of our team members and customers and adherence to new business protocols brought on by the pandemic," says Jeff Crosson, FleetPride vice president, mergers and acquisitions.
"Some projects were delayed [by COVID-19] until later in the year so we could put a priority on others, such as our e-commerce offerings, Crosson says. Since March 2020, FleetPride opened or acquired several locations.
Throughout 2020, Crosson says "FleetPride was presented many hurdles due to the pandemic. However, with the influx of remote working possibilities and tools, we were able to execute via a remote strategy that had not been entertained previously."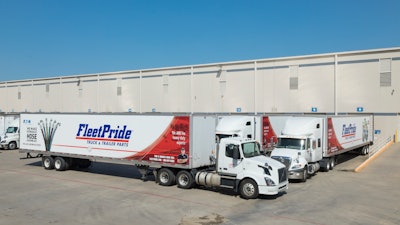 In the 21st century, expansions aren't just done through brick and mortar. Crosson says COVID's impact on customer behavior motivated the company to invest even more in its burgeoning e-commerce business.
In July, Crossroads Trailer Sales & Service Inc., acquired Northcutt, a full-service trailer dealer serving customers in Wichita and Garden City, Kansas. Crossroads also recently built a new facility near Denver to complement its locations in Albert Lea and Luverne, Minn., and Sioux Falls, S.D.
Crossroads President Mark Habben says, "With the Northcutt deal, COVID didn't really have any negative effects on the deal. We were doing our due diligence and through the incubation stage of that transaction so we wore masks and practiced social distancing. It wasn't like we were stifled and unable to meet with everybody and go over the details."
The location in metro Denver was a different story. Crossroads opened its doors March 1, 2020, and the government began closing businesses three days later as the pandemic surged.
As an essential business, Crossroads was able to stay open. But many customers in its new area of operation weren't as fortunate.
"We could go out but none of the customers wanted to see us. 'Nope. We're not allowing outside vendors on site,'" is what Crossroads employees heard, Habben says. "Customers didn't want any interaction related to sales or service."
Unable to make the personal connections with current and prospective customers it had planned, Crossroads was forced to look for alternative methods.
"This is an industry where we're trying to provide value and build partnerships with our vendors and customers. But they locked their doors and wouldn't let anyone in and kind of just hunkered down. That was the tough part," Habben says. "We wanted to provide service for our customers, but we couldn't even see them, couldn't even really talk to them."
He says, "We stayed patient and let [customers] know we were here to support them." These discussions were typically through email and phone conversations.
"We worked hard and continued to drive and it worked out. We're doing really well in that [Denver area] location and our other locations, too," he says.
Learning experience for the future
Once the aforementioned companies learned how to operate with various obstacles put up by COVID-19, they were able to keep to their expansion plans going during the pandemic. What's more, most learned lessons from the experience and will use them in the future.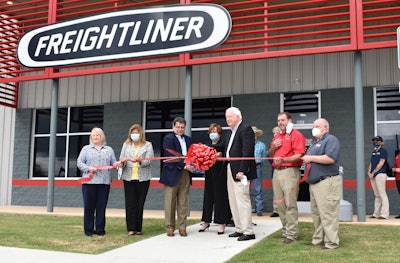 For Four Star Freightliner, it's all about communication.
"We have learned that constant communication with our customers during these times lets us know how to serve them in the terms that is comfortable for them," Dixon says.
Mike Mahon says there were lessons on how to do business. "More of our business is automated today than yesterday and will be more automated in the future," he says.
"Some of our more automated processes are in service and maintenance communication via Insight and MVAsist, customer service automation tools designed to streamline communications to drive uptime, increase efficiency, lower days out of service," explains Mike McMahon. "Additionally, with PartsAsist, we can provide e-commerce with online selection and purchase of parts. We have automated our sales and accounting processes though our dealer management system, CDK, and even our Human Resource functions are cloud-based and allow for remote on-boarding paperwork, benefit planning and payroll."
Having a malleable expansion plan capable of adapting to outside influences also has proven to be essential. Companies that have grown over the last two years say now that they've expanded during COVID, they know they're capable of expanding again if an opportunity arises.
"Our industry was able to survive a pandemic and thrive. I think it speaks to our ongoing commitment to reinvest in the dealership business and staying the course in our acquisition growth and business development," Mike McMahon says.
Adds Habben, "We just stuck to our game plan of going through the pandemic and as opportunities presented themselves, we took advantage with acquisition and growth."