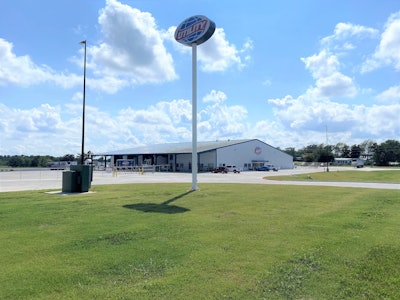 Utility Tri-State has relocated one of its facilities from Siloam Springs, Ark., to West Siloam Springs, Okla.
Utility Trailer says the new dealership is approximately 53,000 sq.-ft. It features eight interior service bays, including one service bay outfitted with roof-work scaffolding to help increase speed and safety, as well as eight covered exterior service bays. The new facility also includes 9,000 sq.-ft., of storage and retail space, and with more than 3,000 sq.-ft., devoted to offices and a new drivers' lounge. The property sits on 10 acres of cement and gravel parking to house additional trailers.
The sales department at the new facility is led by Daniel Smith and Adam Pasque, the new general manager. For over 4 years, Smith has served in various sales positions within Utility Tri-State and Pasque recently joined the team after serving in the United States Army.
"We are thrilled to open this new and larger Utility dealership in West Siloam Springs. It will provide us increased capacity and capabilities that enable us to offer higher quality and faster service to our valued customers," says Pasque.
Utility Tri-State, Inc. also has locations in Tulsa and Oklahoma City, Okla., and in Fort Smith, North Little Rock and Texarkana, Ark. Their newest location in West Siloam Springs is located at 2763 Hwy 412 Watts, OK 74964, and can be reached at 918-262-3034.