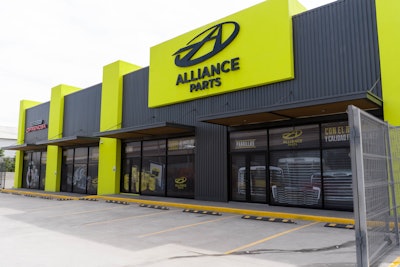 Daimler Trucks North America's (DTNA) Alliance Parts product brand has opened its first standalone store in Mexico.
Located in the municipality of Escobedo, Nuevo León, the store is operated by the Difrenosa dealership. The facility launched this month and features Alliance Parts for all Freightliner trucks.
"We're excited to be opening the first of many Alliance Parts stores in Mexico," says Brad Williamson, marketing director for Alliance Parts & Detroit Reman. "It's great to have dealer partners investing in increased availability of Daimler Trucks North America parts, including Alliance, to our growing customer base in Mexico."
Alliance Parts' growing retail footprint is complemented by an increasing portfolio of parts, helping to match customers with the right part for the job, and driving value where and when needed most, DTNA says. The Alliance Parts store in Mexico opened with over 1,000 unique parts in stock, and plans to double its offerings by the end of 2022.
All Alliance Parts meet or exceed original equipment specifications for quality, fit and finish and are backed by a one year/unlimited mile nationwide warranty, DTNA adds.