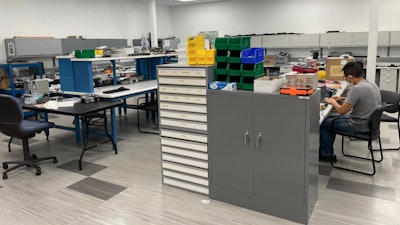 Phillips Connect expanded its business facilities to accommodate explosive growth since 2020, the company says.
The new capacities in manufacturing, R&D, warehousing and a new headquarters complex reflect the increasing recognition of its intuitive and scalable telematics solutions by major transportation and logistics companies.
In the last five years, Phillips Connect leveraged long-standing relationships from Phillips Industries with trailer OEMs and fleets to develop trailer telematics solutions that best complement the new technology standards in the trucking industry. Phillips Connect understood early on smart trucks need smart trailers to perform at their best, so they began the process that would later make them the segment's leader.
"From the rate that our company is growing and the feedback we've gotten from the largest trailer fleets in North America, I can confidently say we're on track to meet our goal," says Phillips Connect Founder and CEO Rob Phillips.
Phillips Connect's recent expansion includes:
A 10,000 sq.-ft. headquarters and testing/development lab located at the University of California at Irvine (UCI) Research Park. The employee count at its headquarters complex doubled by the end of 2021 and is expected to double again by the end of 2022.
Phillips Connect established a warehouse with assembly, software provisioning, quality control and environmental testing capabilities. A smart trailer used for testing and a full-feature scale model are held in both Irvine facilities to offer visitors an immersive experience into Phillips Connect.
"The Phillips name in the commercial vehicle industry means reliability, quality, innovation and a solutions-based mind-set," says Phillips Connect's Vice President of Operations Greg Jones. "At Phillips Connect, we have drawn on that reputation as we position ourselves to be the premier telematics supplier to the customers Phillips has served for decades."
Phillips Connect also has plans to expand to the European market, with its initial touchpoint through a partnership with Phillips Europe in Poland.