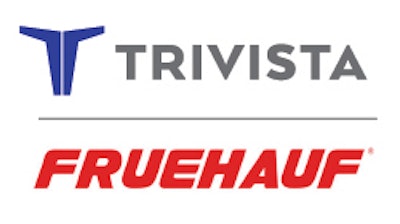 Trivista Companies is expanding its product line by becoming an authorized dealer for Fruehauf, based in Bowling Green, Ky.
Trivista Companies' thirteen Midwest dealership locations will be a dealer for the Fruehauf dry van trailer line with territories covering the entire states of Indiana, Iowa, Kansas, Kentucky and Ohio. The dry van Trailer gives Trivista another offering for their cargo-hauling customers, and an extension to their already comprehensive line of other trailer offerings, including: Grain, Drop Deck, Tank Chassis, Steel End Dump, Combine, Sprayer, Livestock and other specialty trailers, the company says.
The Dry Van Trailers will be manufactured in a new, $12 million assembly plant being built in Bowling Green, Ky. The plant will be dedicated to producing the dry van trailers for the U.S. and Canada markets.
Fruehauf has a history of manufacturing transportation products dating back to the company's founding in Detroit, Mich., in 1890. In addition to trailers, the company's related products include dollies, platforms, container chassis, tanks, hoppers and turns. Fruehauf is a subsidiary of the Fultra group, a diversified manufacturing company based in Mexico.
With more than 171 years combined experience in the trucking and transportation industry, Trivista's certified technicians and sales staff are fully equipped to handle any sales, parts or service need this new trailer line will bring, the company adds.
"Trivista Companies is excited for this new trailer addition, as we continually strive to become the most customer-centric, innovative and value-creating truck, trailer and equipment solutions provider in the industry. We are confident this Dry Van Trailer line will be a beneficial addition to our product and service offerings for our customers throughout the Midwest," says Jim O'Halloran, Trivista Companies CEO.
"Having this dry van trailer line in our Ohio region will be a perfect complement to our existing array of trailer offerings, and we look forward to providing this expanded capability to our customers," adds Vince Cerni, president of sales and Trivista Companies partner.
"This Dry Van Trailer line is going to be a welcome addition to our customers in the Indiana / Kentucky region. We're confident our customers will enjoy the convenience of purchasing a truck and trailer together for all their dry cargo hauling needs," adds John Shireman, president of marketing and administration and Trivista Companies partner.