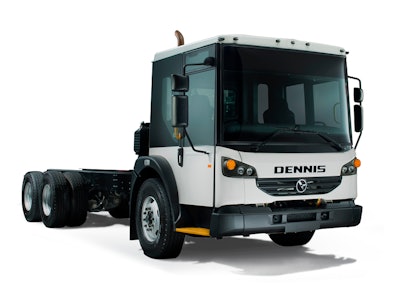 Matthews Motors has reached an agreement with Dennis Eagle to become a distributor for their Proview line of refuse collection vehicles.
This will add to the Matthews Motors company's already extensive product line of truck sales, maintenance and upfitting and automated fleet management services.
"We are extremely excited to become part of the Dennis Eagle family," says Bob Matthews, CEO, Matthews Motors. "Dennis Eagle is the industry leader for quality and durability with some of the most innovative chassis designs in the industry."
Geoff Rigg, interim president of Dennis Eagle, adds, "We're delighted to have Matthews Motors on board as a distributor of our trucks. As a forward-thinking and dynamic company, they are ideally suited to the ProView which is taking operational safety and efficiency to new heights in the refuse collection industry."
The ProView has been designed for the North American market by Dennis Eagle, who has been designing and manufacturing waste and recycling trucks since 1907. The ProView is manufactured at Dennis Eagle's new factory in Summerville, S.C.
"The cab on the Proview line offers excellent visibility, while they have improved the chassis for greater strength and safety. A 9L Cummins engine powers it for outstanding performance. We believe this will be a popular vehicle for our customers," says Aaron Matthews, CFO, Matthew Motors.