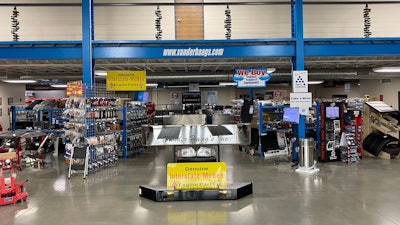 Vander Haag's expanded into Texas. The company announced Tuesday it has entered the Dallas-Fort Worth region with its newest all-makes, all-models heavy-duty truck parts store at 4936 Sharp Street in Dallas.
"We are excited to bring our quality recycled truck parts to Texas, along with stocking a large array of new and rebuilt components. With our growing customer base in the Texas market, getting our parts closer to the customer cuts down on unnecessary downtime and allows them to get back on the road quickly" says Joe McIntire, Vander Haag's chief product officer.
Dallas joins Vander Haag's other locations in Spencer, Des Moines, and Council Bluffs, Iowa; Sioux Falls, S.D.; Kansas City, Missouri; Winamac, and Indianapolis, Indiana; Columbus, Ohio; and Louisville, Kentucky.
To complement their physical locations, Vander Haag's website also offers an industry leading one-stop shop where customers can purchase truck, trailer and off-road equipment parts, trucks, trailers, and truck equipment through the online shopping cart and schedule service work using their enhanced customer portal, the company says.