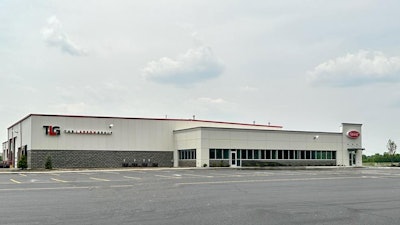 The Larson Group (TLG) has completed construction on a new full-service facility for its TLG Peterbilt – Dayton location. The store will be the 25th in the company's network.
Slated to open June 26, the move to the new facility in Tipp City is in response to the tremendous growth and support for customers in the Dayton area since it opened in 2016, TLG says. The new facility will provide customers with complete dealership support at 450 S Kinna Drive in Tipp City, conveniently located on I-75.
Construction on the 41,000+ sq.-ft., building began in the fall of 2022 and serves as a symbol of TLG's commitment to the area and providing the support customers need. While the previous Huber Heights location offered parts and mobile service only, the Tipp City location not only offers customers a significantly expanded facility but is now a full-service dealership designed to provide the best customer and employee experience possible. TLG says it will offer new and used Peterbilt trucks for sale, parts and a full-service department for commercial truck repair solutions.
"We're proud to announce the opening of the brand-new, full-service TLG Peterbilt – Dayton that was designed to give our valued customers the award-winning dealership experience TLG is known for and our employees a modern, first-class facility to call home," says Brad LouAllen, General Manager of TLG Peterbilt – Dayton.
The new TLG Peterbilt – Dayton features a 1,600 sq.-ft., parts showroom, a nearly 13,000 sq.-ft., parts warehouse, and a modern design that may be recognized by some from the Cincinnati dealership, as both construction projects have been led by Cincinnati Commercial Contracting.
TLG adds the service department is dedicated to customer uptime with 20 service bays, a wash bay and 5-ton overhead crane for complete commercial truck repair and solutions and is staffed with TLG Peterbilt's award-winning diesel service technicians. The service area also includes a modern drivers' lounge with showers and laundry facility, the company says.
The new TLG Peterbilt – Dayton is located at 450 S. Kinna Drive, Tipp City, Ohio 45371. Hours of operation for parts and service are 7 a.m. to 6 p.m. Monday to Friday and 7 a.m. to noon on Saturday. Equipment sales are open 8 a.m. to 5 p.m. weekdays.