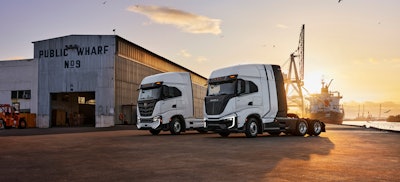 Nikola Corporation, via the HYLA brand, announced Friday an expansion of its dealer network into Canada for its Class 8 truck sales and service coverage with the addition of ITD Industries Inc.
ITD is a North American leader in transportation equipment manufacturing, boasting more than two decades of experience, more than 20,000 trailers built and a growing network of customers from across Canada and the U.S. ITD's diversified products set industry standards for quality, innovation and customer experience. The company is headquartered in Toronto.
"Bringing ITD on board as our first Canadian dealer is an exciting move for Nikola. Canada's zero-emission vehicle friendly environment for Class 8 trucks, fueled by attractive incentives and its ambitious carbon reduction goals, makes it a strategic market for the future of transportation," says Nikola President and CEO Steve Girsky. "What makes this partnership even more ideal is the shared dedication to our customers. ITD's commitment to product innovation and customer service aligns perfectly with our mission to empower fleets and drive success as they transition to a more sustainable future."
Nikola says Canada is a premium market with its supportive population, industry and government as it relates to addressing the impacts of climate change and its ambitious plans to transition towards hydrogen and cleaner fuels.
[RELATED: Half of commercial vehicles to be zero emissions by 2040?]
"At the heart of ITD is a commitment to sustainability and innovation. Our ability to now include Nikola's Class 8 zero-emission trucks in our growing product line-up is the perfect complement to our investments in electric trailer technology and a natural next step in our Company's ambition to bring promising clean transportation solutions to the Canadian marketplace," adds ITD CEO Benny Di Franco.
ITD's Toronto-based premier Nikola showroom and service operations will be integrated into its manufacturing facility and features 55-foot ceilings and more than 78,000 sq.-ft.
According to ITD's COO, Philip Turi, "Canadian fleet operators are in critical need of strategic partners to help accelerate their shift to a more sustainable future. We are extremely excited to be leveraging our brand, reputation and new partnership with Nikola to be that accelerant here in Canada."