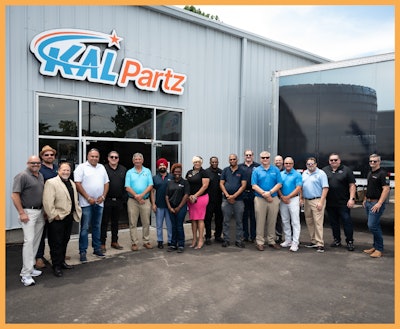 California-based distributor of heavy-duty aftermarket parts KAL Partz has added a new location in Conley, Ga., a suburb of Atlanta.
Along with parts, this new location has a dealership KAL Trailers and Leasing, which offers used trucks, trailers, reefers, flatbeds and containers for sale, rent and lease options. KVL Tires KAL's Tire company also is serving at the same location; selling truck/trailer tires, agriculture, industrial, and OTR tires. Bringing all these products and services together in one place makes it the go-to destination for all the trucking needs, the company says.
KAL Partz says its Conley location boasts more than 30,000. sq.-ft., over a nine-acre lot at 4285 Moreland Ave., Conley, GA, 30288.
During the location's recent opening event, the day was packed with exciting offers, from unbeatable shop deals to delicious bites from the Tres Jardines Food Truck. Dr. Alieka Anderson, the Commissioner of Conley, led the event, making the day nothing short of spectacular. Additionally, Jaspreet Singh (director, KAL Partz), Joshua Joiner (director, Industrial-KVL Tires), and Jacque Cleveland (parts operation manager, Kal Partz) served as gracious hosts, ensuring everyone felt at home.
Added Sikander Randhawa, the visionary behind Kal Trailers and Leasing, "Today is more than just an opening day; it's a commitment. A commitment to deliver unmatched services to Conley's thriving trucking community. The turnout we have seen today. That's a badge of trust."