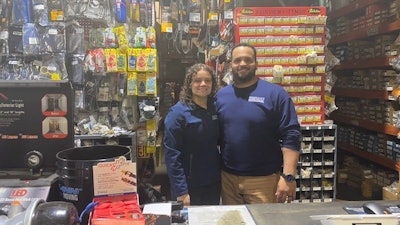 HDA Truck Pride has expanded its presence in New Jersey with the addition of new member Rodriguez Distribution.
Raul and Karla Rodriquez operate three locations in the Newark, N.J., marketplace. Newark is an extension of the metropolitan NYC marketplace with an abundance of people, traffic and most importantly, an abundance of heavy-duty vehicles necessary to support the economy and congestion.
Established in 2008, Rodriguez Distribution is a family-owned truck parts and service company located in Newark. Rodriguez Distribution offers a complete range of heavy-duty parts, for all trucking needs. A comprehensive inventory supports the demands of the company's tri-state customer base, along with quick and easy online ordering for pick up or delivery, the company says.
Rodriguez also owns Newark Spring and Suspension, a full-service repair facility, which includes DPF cleaning, fuel tank repair, EGR cleaning, along with a full radiator and driveline service shop. While Newark Spring caters to vocational trucks, it is always ready and willing to assist customers with commercial vehicle service needs, the company says. Currently, Newark Spring operates four double bays with six technicians but they are continuously looking for expansion opportunities.
"Raul and Karla Rodriguez are extremely passionate about their people and growing the business. HDA Truck Pride is thrilled to support them and be a part of their growth journey," says Tina Hubbard, president and CEO of HDA Truck Pride. "The energy and dedication Raul and Karla exemplify is a key indicator that we are in for an exciting adventure of growth with Rodriguez Distribution"