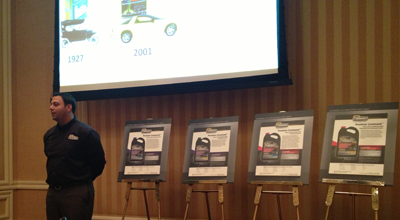 Tim Shipley, director of sales for Prestone, announces the launch of Prestone Command, a coolant for heavy duty trucks.Prestone Products Corporation has introduced its new Prestone Command product line to the heavy-duty aftermarket.
The new line features Prestone Command Extended Life and Extended Service antifreeze products, in addition to Prestone Command DEF fluid, which the company says is compatible with all SCR-equipped heavy-duty engines.
"Our new family of Prestone Command heavy-duty antifreeze/coolant products are the latest innovations Prestone is offering to the North American heavy-duty vehicle market," says Greg Noethlich, president of Prestone Products Corp. "Prestone Command takes the specific needs of the heavy-duty fleet operator into account and delivers 'anywhere, anytime, any engine' protection that helps to prolong engine life."
According to Prestone, the new line is available exclusively to the heavy-duty market, and will begin shipping in March.
Prestone says new coolants are said to prevent:
— Freezing and boil over
— Rust
— Corrosion
— Scale
— Premature water pump failures
Prestone also has released PrestoneCommand.com, an interactive site for the new product line with information, FAQs and details of the Prestone Command incentive programs.
The Prestone Command Extended Life coolant provides 600,000 mile/12,000 hour protection for any diesel-powered heavy-duty engine when used with an extender after 300,000 miles.
The Prestone Command Extended Service coolant is SCA pre-charged and provides extended protection against a variety of risks, the company says.
Both antifreeze/coolant products are available in 1-, 55- and 264-gallon totes, Prestone says.
Prestone says its new DEF product is available in 2.5-, 55- and 330-gallon totes. The product consists of 67.5 percent demineralized water and 32.5 percent high-quality automotive-grade urea. It meets all API and ISO 2224-1 specifications.