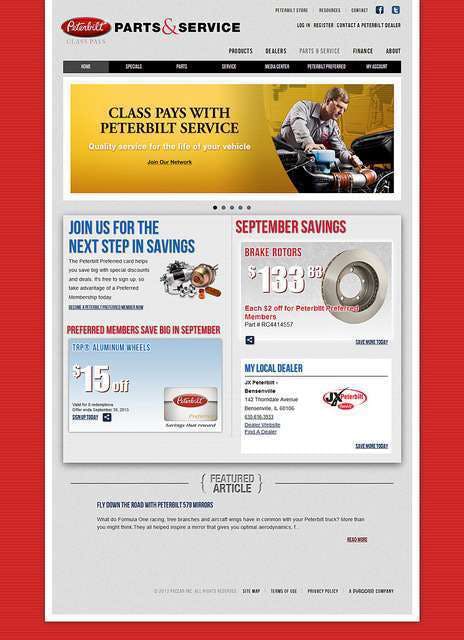 Kenworth and Peterbilt fleets and owner operators can find the latest parts and service deals and information on new Parts and Service websites recently launched by PACCAR Parts.
The new sites, located at partsandservice.kenworth.com and partsandservice.peterbilt.com, offer truck fleets and operators one source for special offers from Kenworth and Peterbilt dealers, the latest product offerings and informative how-to videos and articles from product experts.
"The new parts and service sites are more than just informative, truck fleets and operators can also use them to find the best values on parts and service available from their preferred Kenworth or Peterbilt dealers," Bart Lore, general marketing manager for PACCAR Parts, says. "Customers can quickly track their rewards in the loyalty card programs, locate and map a route to their nearest preferred dealers and view all of the different specials that their preferred dealers offer."
Visitors to the websites can sign up for Kenworth Privileges and Peterbilt Preferred loyalty card programs. They can also learn more about services available from the network of Kenworth and Peterbilt dealers in the United States and Canada, including preventative maintenance, Connect, PACCAR Parts Fleet Services, and Kenworth PremierCare and Peterbilt TruckCare Roadside Assistance.
Each of the parts and service sites also feature a media section where fleet managers, drivers and owner operators can learn from PACCAR Parts product experts about the latest trends, product offerings and maintenance tips. The media section includes articles and popular videos providing tips on products and maintenance.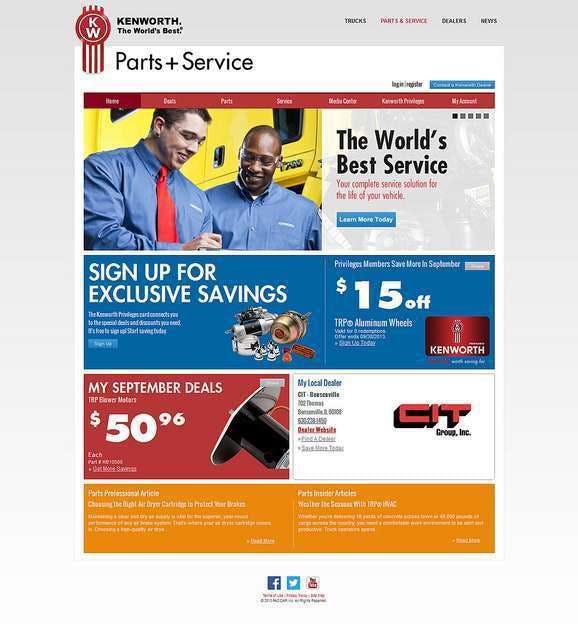 Drivers and owner operators can access Kenworth and Peterbilt dealer websites through the new sites, and can place calls to dealers directly by tapping on the listed phone number on their smartphones.
The new sites are also accessible by clicking on the "Parts & Service" links at the top of the Kenworth and Peterbilt websites.
"The new sites include lot of great information in one location," Lore said. "The sites make it much easier for busy operators, fleets, and parts and service managers to find the information they need on truck parts and service as well as the best discounts Kenworth and Peterbilt dealers offer."