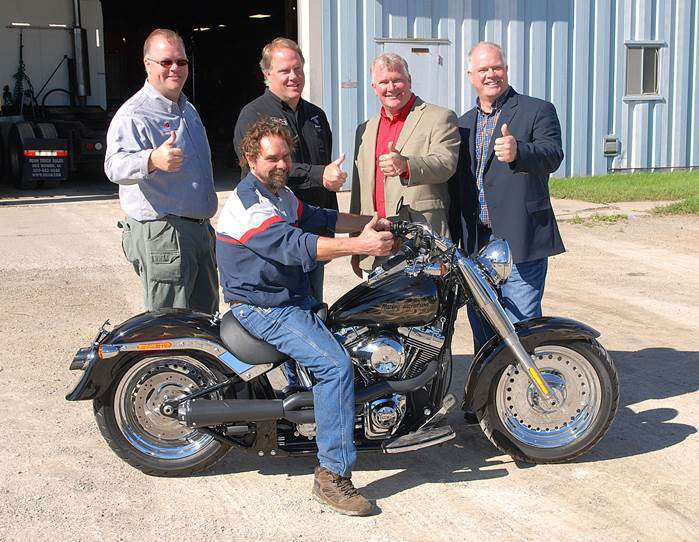 Kit Masters concluded its summer customer promotion by giving away a customized  GoldTop Edition 2013 Harley-Davidson Fatboy motorcycle.
Throughout the summer, Kit Masters included a unique registration code in the box of every GoldTop fan clutch rebuild kits they manufactured and sold. The registration codes allowed consumers to sign up for a drawing to win the bike.
A random drawing was held at the company's plant, in Perham, Minn.
Kit Masters president Darrin Swanson – along with his brothers Brian, Craig and Trent – then travelled to Menominee, Mich., along with management from Wisconsin Kenworth, to award the motorcycle to Todd Kau, Service Manager for Stang Service and Repair.
[youtube sImU2FYAzAw nolink]
Kau was awarded the motorcycle with a surprise presentation at his work.
Kit Masters national sales manager Brian Swanson drove the Harley-Davidson right up to Kau's feet before presenting him with the key.
Kau and his wife are former Harley-Davidson owners, but chose to sell their bikes when their first child was born.
Kit Masters, Inc. manufactures heavy-duty aftermarket components, specializing in remanufactured fan clutches, rebuild kits and accessories.