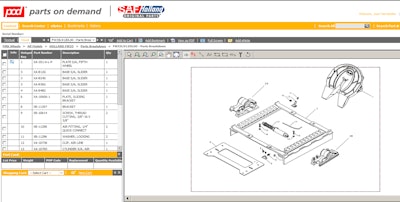 SAF-Holland formally introduced its new Aftermarket Parts on Demand (POD) electronic parts catalog today at Heavy Duty Aftermarket Week (HDAW) in Las Vegas.
"At SAF-Holland, we will see great benefits by providing our distributors with the right tools," says Juan Hernandez, international marketing & sourcing manager. "POD is one of those tools – one of the most powerful tools to save our distributors time."
According to Hernandez, the POD system includes product information for every SAF-Holland component for the last 15 years. The site's search feature also enables distributors to reach specific areas of the site with a few clicks of the mouse. Parts may be searched visually, textually, by keyword, or part number, which the company says should help answer customer questions in real time, without the need of a phone call.
Distributors have full access to more than 15,000 assembly numbers along with their respective component parts and exploded views. In addition, POD enables distributors to quickly and professionally provide valuable information to their customers in real time.
SAF-Holland says POD enables distributors to:
Find precise parts information
Check on pricing and availability
Download parts manuals
Acquire warranty information
Determine size and weight
Order online
Cross-referencing, if a part has been found to be obsolete or has been replaced with another part
While currently only available in desktop form, SAF-Holland says  mobile version of POD will be available in the second quarter of 2015. A Canadian version also is on the schedule for 2015.
"Four years ago, SAF-Holland made a commitment to service the needs of our aftermarket customers," says Carl Mesker, vice president of SAF-Holland's Aftermarket Business Unit. "POD is powerful initiative to grow the Aftermarket Business as a leader in aftermarket parts for suspension, fifth wheel, landing gear and coupling products."