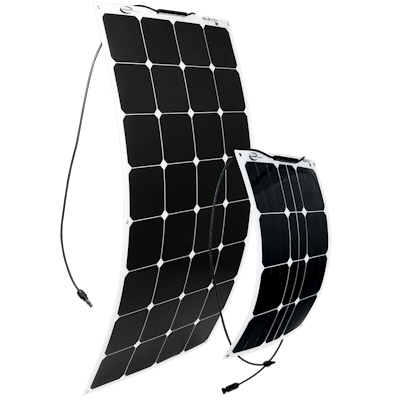 Go Power says it will be displaying groundbreaking new uses for its Solar Flex solar panels in two booths in the Green Zone at the NAFA 2015 Institute & Expo in Orlando, Fla.
New applications for the small, thin, flexible, ultra-high-efficiency Solar Flex panels include integration into fiberglass service bodies and designs that mount directly to boom and bucket arms, the company says.
In addition, the company says an integrated service body application of the Solar Flex system can be seen at the SpaceKap booth (1417). SpaceKap designs and manufacturers fiberglass pickup truck caps and slip-in transferable service bodies.
"We were the first to introduce the slip-in service body, and as a company built on innovation, we are always looking for transformative new technologies," says Sean Brideau, key account manager for SpaceKap. "Go Power!'s Solar Flex panels have allowed us to create a standalone cap that takes only 10 minutes to install, generates its own electricity and eliminates the wire harness connection to the host vehicle's alternator that were previously necessary."
At only three millimeters thick, Solar Flex panels are constructed using a rugged marine-grade laminate and can be affixed with fasteners through engineered eyelets or via adhesive to metal, rubber, fiberglass and plastic surfaces with parabolic bends as great as 30 degrees, the company says. The panels are so durable that they can be mounted on horizontal body surfaces.
"The Go Power Solar Flex system significantly reduces nitrogen oxide [NOx] emissions and soot accumulation, thus extending the life of a vehicle's diesel particulate filter [DPF]," says Sean O'Connor, sales channel manager for Go Power North America. "In addition to making no-idle mobile power a reality for work truck fleets, our system virtually eliminates the cost to jump batteries, replace batteries and the manpower and downtime associated with both."