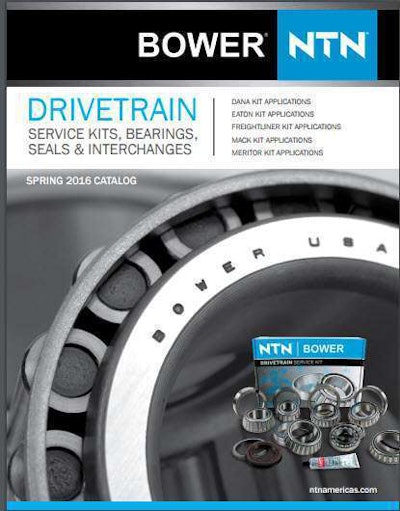 NTN Bearing Corporation of America is now distributing its 2016 NTN Bower Differential Service Kits Catalog.
NTN says the catalog indexes repair solutions for the company's powertrain rebuilder customers, including heavy-duty differential kits for popular OEM manufacturers such as DANA, Eaton, Freightliner, Mack, and Meritor.
"The new catalog supports NTN's commitment to the highest level of customer support," says Ray Froude, product manager, Auto and Heavy Duty Truck.
The 2016 catalog contains an index of two types of NTN Bower differential kits to service the heavy-duty truck marketplace. NTN says its master differential kits incorporate all the necessary components needed for the repair – application-specific bearings, seals, gaskets, o-rings, sealant, and threadlocker. It also offers a "V100" version of the company's master differential kits that excludes sealant and threadlocker. This cost saving option provides a unique, environmentally friendly solution for the professional rebuilder, NTN says.
NTN says highlights of the first edition 2016 catalog includes:
Easily and quickly locate your application by either kit or axle
Updated kit contents section that provides a full list of components in each kit
New bearings and seals sections that assists in the look up of loose bearings and seals for customer applications
New interchange section that includes OE to NTN Bower kit
New differential kits for the popular Freightliner and Mack kits
To obtain a copy of the 2016 NTN Bower Differential Service Kits Catalog, please CLICK HERE.