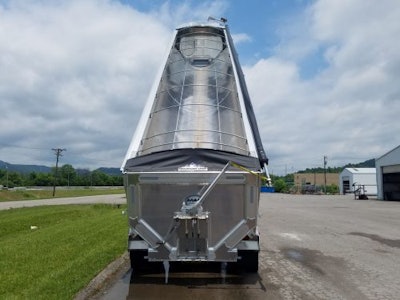 Mountain Tarp says its ESR2000 electric side-to-side lock-and-roll tarping system features a heavy-duty electric motor, one-button open-and-close controls and a reinforced aluminum front arm with a spring assembly.
Available in either a direct-drive or a chain-drive motor assembly, the company says the waterproof system is suited for use in grain-hauling applications and also is designed to allow haulers to use one tarp for a variety of applications to help maximize load options for return trips. It uses synthetic oil to help enhance performance in cold-weather areas.
Mountain Trap says options include a flex base assembly, rear arms for additional stability in high wind areas and a remote control. The standard motor slide coupler is engineered to allow users to disengage the motor to roll the tarp over manually using a hand crank if electrical power is unavailable.