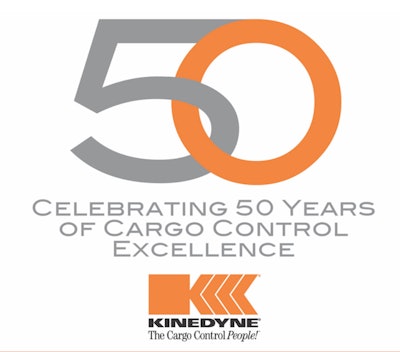 Kinedyne LLC is celebrating its 50th anniversary. Part of Kinedyne's celebration includes the release of a new commemorative logo and video, with a new website to be unveiled in 2019.
"As Kinedyne North America reaches this momentous 50-year milestone in our corporate history, we pause and reflect on our five decades of accomplishments and service to the commercial vehicle industry and government," says Dan Schlotterbeck, president, Kinedyne LLC. "As our remarkable history demonstrates, Kinedyne always has been and remains committed and uniquely qualified to provide innovative solutions to the industry that meet whatever challenges we will face together in the next 50 years."
The 50th anniversary video examines the company's history decade by decade, highlighting important milestones along the way. The new video is now available on Kinedyne's YouTube channel and on the company's website. Special 50th anniversary observances have been held at all corporate locations and at Kinedyne's annual sales and operations management conference held in Nashville, Tenn.
Founded by Jim Klausmann in 1968, the original business entity was called Kinedyne Corporation, the name "Kinedyne" being derived from the words "kinetics" and "dynamics." The fledgling company swiftly built a reputation for quality and service, gaining attention and creating a following within the North American trucking industry. With time also came the establishment of international affiliates that today include Kinedyne Canada Limited in Canada, Sistemas Kinedyne, S.A. de C.V. in Mexico and Nantong Kinedyne Limited in China, according to the company.
Since its founding, Kinedyne has broadened its original focus on cargo securement. In the mid-1990s, the company expanded its offering to include specialized cargo capacity products with the introduction of its Kaptive Beam Double Decking System that enables trailers to double their volume.
In 2016, Kinedyne introduced its Kin-Slider and Kin-Sider curtain-side cargo access systems. In 2017, the company introduced the first load-rated curtain-side access system in North America, as well as a new aerial access sliding roof system.
"Kinedyne's expansion into curtain-side cargo access technology has been the logical next step in our continuing evolution as 'The Cargo Control People!,'" says Paul Wolford, Kinedyne vice president of sales and marketing. "We believe that with better cargo securement, greater cargo capacity and faster cargo access technologies, we can make the increasingly complex shipping environment just a little easier for the industry to deal with, today and as the future unfolds."