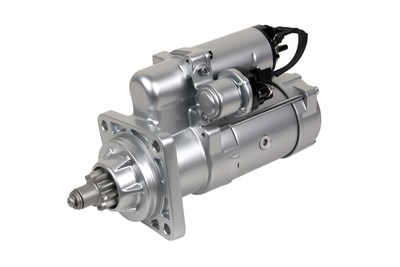 BorgWarner has released its new commercial vehicle starter, the Delco Remy Genuine Products 31MT.
Developed from BorgWarner's trusted Delco Remy Genuine Products 29MT OE platform, of which there are more than 1.25 million OE units installed, BorgWarner says the 31MT model family provides a wide range of coverage for the Class 6 and 7 commercial vehicle aftermarket. The new 31MT starter is said to provide increased reliability, durability and up to 10 percent more peak power than comparable products. These performance benefits make the new 31MT starter a durable, reliable solution for medium-duty commercial vehicle applications, such as delivery vans, emergency vehicles and school buses, the company says.
"BorgWarner's new Delco Remy branded 31MT commercial vehicle delivery starter is expected to expand our product portfolio for medium-duty vehicles and fills the need for a durable, reliable starter for class 6 and 7 commercial vehicles," says Dr. Stefan Demmerle, president and general manager, BorgWarner PowerDrive Systems. "It is an ideal solution for applications that make a lot of starts and stops or operate under stressful driving conditions because it offers outstanding strength, power, durability and affordability."
Building off its highly reliable 29MT platform, BorgWarner says its engineers made a series of design changes to improve the performance of the heavy-duty starter. These changes include a new silicon lamination armature for increased cranking power; enhanced commutator and a new bearing with O-ring for greater starter durability; and stainless brush springs and a new plated brush holder for added corrosion resistance and overall performance. The 31MT is compatible with stop/start systems, helping enable OE's to implement that fuel saving strategy.
Another innovative feature of the 31MT commercial vehicle starter is its positive shift engagement system, which the company says is activated in case of tooth abutment. If this occurs, the armature rotation in full power clears the abutment to allow pinion engagement, preventing click-no-crank — which occurs when you turn a key and hear rapid clicking but the starter does not crank the engine. The positive shift engagement system enables a better driving experience and is particularly well suited for medium-duty commercial vehicles that have frequent stops and starts, the company says.
The 31MT model can be used to upgrade existing parts for a variety of medium-duty vehicles from major commercial vehicle OE manufacturers with 12-volt engine sizes up to 9-liters. BorgWarner says each starter comes with a one-year, unlimited miles warranty for all makes, and an extended two-year warranty for school bus applications in North America.