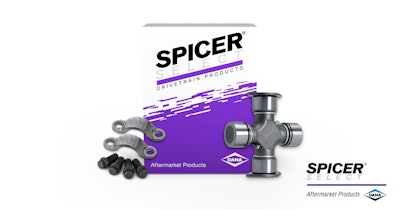 Dana Incorporated has expanded its Spicer Select all-makes drivetrain portfolio to include the most popular u-joints for commercial-vehicle applications while also adding new u-joint strap kits.
With the addition of the strap kits, Dana says the Spicer Select offering provides a complete u-joint replacement package for a significant portion of over-the-road and vocational applications.
"The expansion of the Spicer Select portfolio allows aftermarket distributors to better address the needs of customers with aging vehicles by offering replacement parts designed specifically for them," says Mark Wallace, president of Dana Commercial Driveline Technologies and Aftermarket. "When installing a new u-joint, Dana recommends replacing the supporting hardware to ensure safety and maximum durability. The addition of the strap kits for the Spicer Select product line enables distributors to offer a complete replacement kit for customers."
Available through traditional aftermarket channels, Dana says Spicer Select offers a practical replacement alternative for aging vehicles. Spicer Select drivetrain products are Dana-engineered and -tested aftermarket products manufactured by a network of carefully selected partners. The comprehensive development and manufacturing process ensures that products provide proper fit, function, and reliable performance, the company adds.
Dana's Spicer Select u-joint and strap kit replacement offerings cover the following driveshaft series: Spicer 1710/1760 Series; Spicer 1810 Series; Spicer 1610 Series (u-joints only).