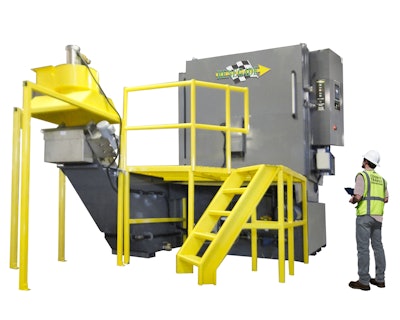 Service Line Inc. has launched the Renegade FL 9000 6048 Front Load Pit Mount Parts Washer, a customized, heavy-duty, solvent-free solution for transit and fleet maintenance cleaning operations.
Renegade automatic front load cabinet washers operate with a durable gear-driven turntable and provide easy access to the wash zone. Parts such as bearings and races are cleaned of grease, oil or lubricants in a high temperature and high-pressure environment, according to an announcement.
Designed for pit mounted installation, the custom options for the Renegade FL 9000 6048 include a gas heat immersion system, sludge conveyor and parts tree with specially made nozzle and spray manifold configuration. Additional features include PLC/HMI touch screen controls, 60-in. turntable, 3,500 lb. load capacity and 2,000-gallon tank volume.
Industrial applications for the Renegade FL 9000 6048 parts washer include transit, fleet and railroad maintenance operations, heavy-duty truck, industrial parts cleaning, large casting CNC machining facilities, machine shop, mining equipment, production engine shops, production machining facilities, remanufacturing facilities, transmission machine shops and transportation production centers.
Automatic front load parts washers maximize efficiency in day-to-day production cell operations. Renegade aqueous parts washers are designed to work with Renegade solvent-free detergents for maximum cleaning without residue buildup, the company says.