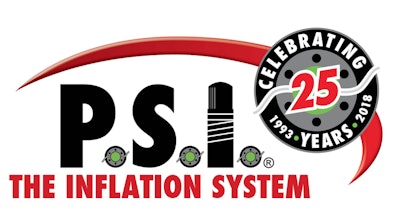 Pressure Systems International (PSI) has released its November/December 2018 Commercial Fleet Tire Digest on "Inspecting Your Wheels."
To improve the chances truck owners get the most out of their tires, the wheels they're mounted on must be inspected and properly maintained.
During tire inspections, PSI says wheels should be checked for corrosion buildup; cracks; bent or broken flanges; loose, missing or damaged nuts; and bent or stripped studs.
During tire changes, a more thorough wheel inspection should be performed, according to PSI. Once the tire is removed, all metal surfaces — including the tire side of the rim and mounting area of the disc — should be checked. Damaged wheels, components, nuts, studs and valves should be replaced.
Furthermore, during tire changes is when rust, dirt and dust should be removed from all services, especially the surfaces where the wheels mount together and against the hub or drum to ensure proper clamping, the PSI digest states.
The tire digest also provides information on proper wheel disc mounting, replacing broken studs, and the effects on wheels caused by extreme heat or tires running with little or no air.
To read the entirety of the report, CLICK HERE.