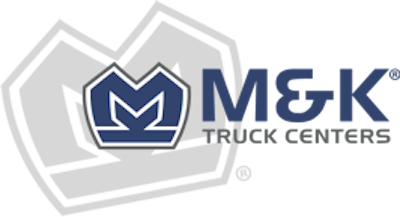 M&K Truck Centers announced Monday the acquisition of the Mack Trucks and Hino Truck product lines from Triple Cities Mack for the Scranton, Pa., market. Effective immediately, M&K will offer Mack and Hino products and all support services out of its existing location in Dunmore. M&K Truck Leasing also has acquired the leasing operations of NEC Leasing's Scranton location.
The new location will provide M&K Truck Centers with access to more than 9,200 prospects and up to 34,000 vehicles in a 50-mile radius, according to RigDig Business Intelligence.
"The acquisition of the Triple Cities' Mack and Hino lines in Scranton compliments our new truck sales, used truck sales, trailer sales, parts, service and rental and leasing offerings. It allows us to provide added capacity and represent Mack and Hino in the Northeast Pennsylvania market," says Josh Wolf, vice president, operations, M&K Truck Centers. "We offered employment to all of the Triple Cities-Scranton employees and are pleased that almost all of them accepted a position with our company. We are excited to welcome them to the M&K team at our Dunmore facility."
RELATED: Midwest Wheel opens Missouri store
M&K says Mack and Hino customers will have access to parts, service, sales and leasing and rentals in the Scranton market beginning May 3. The location is found at 125 Monahan Ave., Dunmore, PA 18512. The company's parts and service departments are open from 6 a.m. to 8 p.m., Monday to Friday, and its sales and rental/leasing departments are open 8 a.m. to 5 p.m., Monday to Friday.
With the acquisition, M&K says it now has 15 other Mack dealership locations in Illinois, Indiana and Michigan. M&K has also been a Hino dealer since 2003 and currently has seven other Hino dealerships in the Midwest.