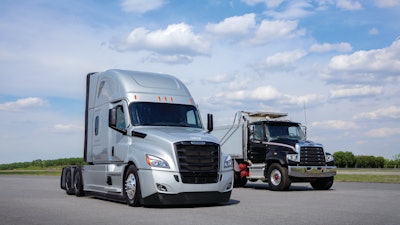 Daimler Trucks North America
Velocity Truck Centers (VTC) announced the company has expanded further into the Southeast with the acquisition of the Triad Freightliner, Triad Freightliner of Kingsport, Tenn., West Carolina Freightliner, Carolina Freightliner and H&H Freightliner (Triad/H&H).
These acquisitions extend VTC's reach into North Carolina from California, Arizona, Hawaii, Nevada, central Tennessee, northern Alabama and southern Kentucky. Triad/H&H's locations sell and service the Freightliner and Western Star brands from 9 locations in northeastern Tennessee and North Carolina, the company says.
"We are very pleased to increase our reach in the Southeast to be able to take care of our customers through North Carolina and Eastern Tennessee, a natural extension to our existing mid-south locations in Tennessee, Alabama and Kentucky," say VTC Co-Presidents Brad Fauvre and Conan Barker.
"We want to thank Larry Tysinger for working with us to complete this transaction. Larry was one of the founding Freightliner dealers in 1978 and it has been an honor to work with him and take-up his mantle of leadership in the South. We have enjoyed getting to know his organization's over 400 employees as we welcome them into the VTC family, as we likewise welcome his customers with whom we look forward to carrying on his tradition of dedicated customer service," Fauvre and Barker says.
Tysinger adds, "I have enjoyed working with Brad and Conan who executed the deal quickly and exactly as we had agreed. I know that my customers and employees are in good hands, and I wouldn't feel comfortable unless I truly believed VTC would continue our legacy of absolute commitment to our employees and customers."
VTC now consists of 53 locations across the U.S., including 11 body shops, and offering coast-to-coast coverage of commercial vehicle sales, service, parts, collision and fabrication services as well as equipment financing. VTC will bring its customer focus, including two-hour Express Assessment, Elite Support Certification and equipment financing through its Crossroads Equipment Lease and Finance division, to Triad/H&H's markets in North Carolina and Tennessee.