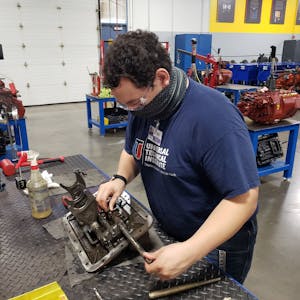 Universal Technical Institute
Universal Technical Institute Inc. has completed its acquisition of MIAT College of Technology for a purchase price of $26 million in cash.
"On behalf of everyone at UTI, I am excited to officially welcome MIAT's management, staff, students, faculty and alumni to the team. Completing this acquisition represents an important initial step in executing our growth and diversification strategy," says UTI CEO Jerome Grant.
"It allows us to further expand our program offerings nationwide into growing fields that we believe will continue to be bolstered by technological advances and the global focus on sustainability. We also expect to realize significant revenue and cost synergies through this acquisition," Grant says.
MIAT is focused on serving students seeking a fast-tracked, industry-aligned high-value education that can lead to rewarding jobs and careers that help employers meet the demand for the skilled trades required in today's workforce.
MIAT offers vocational and technical programs in fields including robotics and automation, welding, non-destructive testing, aviation maintenance, wind power and HVACR. On average over the last five years, MIAT has grown both new student starts and revenue by approximately 20 percent annually. MIAT is accredited by Accrediting Commission of Career Schools and Colleges.
With the addition of MIAT, the UTI network of schools currently serves more than 14,000 students in 14 disciplines across 14 campuses. UTI is also on track to open two additional campuses in 2022 under the Universal Technical Institute brand, UTI says.
The acquisition is part of UTI's previously announced growth and diversification strategy and will allow UTI to expand MIAT programs throughout UTI brand campuses and extend UTI's presence and programs into the Canton, Mich., market where MIAT has been for over 50 years.
Other expected synergies include operating and purchasing cost efficiencies and broadening the opportunity for student growth at the MIAT campuses by leveraging the national UTI marketing and admissions infrastructure. UTI's growth and diversification strategy is centered around serving more students in fields where trained technicians are in demand and is expected to produce double-digit average annual revenue growth and continued margin expansion in the coming years, UTI says.
Included within this projected growth and margin expansion is the expected contribution from continued organic growth from the acquired campuses and programs MIAT offers, as well as anticipated revenue and cost synergies afforded by the acquisition. For the 12-month period ended Sept. 30, 2021, MIAT reported more than 1,200 end-of-period active students, revenue of approximately $29 million and adjusted EBITDA of approximately $3.9 million, the company says.