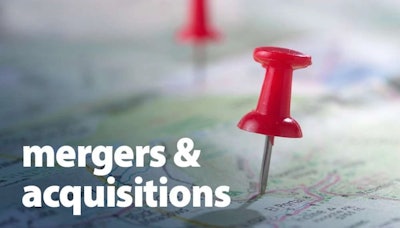 Though it wasn't quite as hectic as February, March proved to be another busy month for acquisitions in trucking's dealer, aftermarket and supplier sectors.
The service channel the busiest segment of the industry in the month, but suppliers still kept busy with some market-changing deals.
The first acquisition of March was McCarthy Tire grabbing Piedmont Truck Tires, a 10-location operation in North Carolina, South Carolina and Tennessee. "Piedmont Truck Tire is known for quality products and superb customer service," says John D. McCarthy Jr., president of McCarthy Tire Service. "We are proud to be affiliated with Dan [Rice] and his team, and we welcome them into the McCarthy Tire family."
American Trailer World was next, announcing on March 3 it had added Marius Garon, a Quebec City-based distributor of trailer parts and towing accessories. "Marius Garon is an excellent addition to our existing TexTrail distribution portfolio, and through this acquisition, American Trailer World continues to expand its distribution network to better serve customers," said Eric Zimmer, American Trailer World president of retail and distribution.
The biggest news of the month again came from the supplier community, as Investcorp announced on March 8 its purchase into S&S Truck Parts. The partnership will focus on continuing S&S Truck Parts's organic growth. "This investment and partnership with the S&S team was a natural extension of our experience in the aftermarket auto and trucking industry. Its leading market position, strong customer relationships and the compelling value proposition of S&S's private label offering present a highly attractive investment opportunity," says Steve Miller, managing director, Private Equity – North America, Investcorp.
[RELATED: Catch up on all the acquisitions announced February]
The service sector was next. Epika Fleet Services continued its growth trajectory by adding North Florida-based Truckers 24-hr Road Service. "We are thrilled to be adding Truckers 24-Hr Road Service to the Epika network," says Epika Fleet Services CEO Glenn Sherburne. "The combination of their talented team and the resources and relationships of Epika positions us to deliver best-in-class service to customers from Georgia to Alabama along the I-10 corridor."
On March 16, DexKo Global subsidiary Dexter Axle Company acquired HiSpec Wheel & Tire Inc., located in Mishawaka, Ind. HiSpec designs and provides aluminum and steel wheels, tires and related accessories to the RV, trailer and transportation industries. "Uniting Dexter and HiSpec allows us to offer a more comprehensive line of safety related towing products to all our customers and business partners. We are very excited to bring the HiSpec team into the Dexter family," says Adam Dexter, president and CEO of Dexter.
FleetPride followed on March 22 as it continued its aggressive expansion of its service business unit by adding N.Y. based Portville Truck & Auto Repair. "We are thrilled to welcome everyone at Portville Truck & Auto Repair, including their Fat Cat's, I86, and Big Dog locations, to FleetPride and expand our nationwide parts and service network into new territory in the Southern Tier of New York and northern Pennsylvania," says Cory Anderson, FleetPride vice president and general manager of service.
The aftermarket also had a major merger in March, as HDA Truck Pride member companies and independent parts and service operations A&A Brake Service and All Systems Brake combined to become AA Systems Truck and Bus LLC. "Our entire focus is customer service. You can count on AA Systems Truck and Bus. We also have a million ideas for how to change things up to drive efficiencies. Technology is one of the things we'll use in our favor," says Richie Caiazza with AA Systems Truck and Bus.