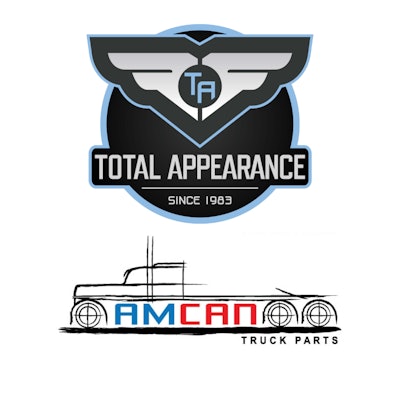 JX Enterprises announced Monday the acquisition of Total Appearance (TA) and Amcan Truck Parts. Total Appearance specializes in truck collision repair and customization, including innovative paint designs and vehicle graphics, and show-truck quality aftermarket parts and installation. Amcan Truck Parts is an online aftermarket parts retailer.
TA, founded in 1983 and based in Pewaukee, Wis., is nationally recognized for its expert truck body repair, custom paint and graphics, as well as wide selection of premier brand cosmetic accessories sold through Amcan Truck Parts, such as chromed-appearance grilles and exhaust stacks, and interior cab upgrades such as premium shifters and gauge and instrument accents. While TA specializes in heavy-duty trucks, it has a deep customer portfolio of passenger and light-duty vehicles, municipal fleets, construction and agricultural equipment, and even boats.
[RELATED: Nikola acquiring energy storage technology company Romeo]
"The addition of TA to our strong network of JX Truck Centers and other transportation service business divisions gives us yet another opportunity to serve customers in a unique way," says Eric Jorgensen, president and CEO, JX Enterprises. "It provides us with new growth opportunities and is essentially a one-stop destination for owner-operators and fleets to personalize their vehicles and create a standout brand through industry-leading customization."
TA will complement the company's existing JX Graphics division located at JX Truck Center in Madison, Wis., giving customers another strategically located source for truck body repair, painting and graphics.
Jorgensen noted TA's existing employees are expected to continue working at the company. "In addition to TA's state-of-art facility and equipment, the specialists there are true craftsmen with passion for what they do – a great fit for our culture at JX Enterprises," he says.
Through Amcan Truck Parts, customers will have the ability to browse, select and purchase the wide range of truck accessories online, which can be installed by TA and throughout the JX Truck Center 28-location network, and will be integrated with JX Enterprises' robust all-makes, all-models parts infrastructure, including the company's exclusive Alltrux Parts product line.
"We're extremely excited with these latest acquisitions as JX Enterprises continues its 52-plus years of steady growth and strategic expansion," Jorgensen says. "We welcome TA and Amcan Truck Parts to the JX family and the roles they will play in our mission as a total solutions provider for the transportation industry."