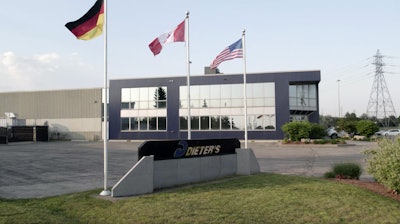 High Bar Brands (HBB) has acquired Dieter's Accessories, a renowned manufacturer of heavy-duty truck parts and stainless steel accessories.
"We are excited to welcome Dieter's Accessories into our family of brands," says Christopher Thorpe, president and CEO of High Bar Brands. "Dieter's reputation for 40 years of exceptional quality aligns perfectly with our commitment to exceeding customer expectations and providing customer solutions. This international acquisition marks an exciting milestone for us and represents a platform for further growth in Canada and the U.S."
Based in Cambridge, Ontario, Dieter's Accessories is a manufacturer specializing in stainless steel parts, including grilles, visors, cab skirts, fender guards, and lighting products. Dieter's also has an aftermarket brand under the Panelite nameplate, which was acquired by Dieters in 2010.
"We are thrilled with our new relationship with HBB," says Peter Hohendorn, president at Dieters. "I and the management team saw HBB as the best fit to take Dieter's to the next level, while sharing our core beliefs and family values."
Thorpe emphasized the synergy of Dieter's distribution through the OEM and aftermarket channels, which presents a significant opportunity for the High Bar Brands portfolio.
"With more than 3,500 HBB distributors, our strong presence in the aftermarket will greatly enhance the Panelite brand," he says. "Moreover, Dieter's long-tenured relationships with key, heavy-duty OEMs will further drive our growth in that segment of the market across all of HBB brands."
Hohendorn will remain invested in the company and following a period of transition will remain as a consultant for the company. Dieter's Accessories joins Minimizer, Premier Manufacturing and Viking Mud Flaps as part of High Bar Brands' expanding portfolio.
"We are highly selective when it comes to adding brands to our iconic portfolio, ensuring these brands align with our strategic goals of delivering high-quality parts through our extensive distribution network. The Dieters/Panelite brands exemplify this approach," says Thorpe. "Over the coming months, our focus will be on integrating Dieter's Accessories into our sales and marketing engine, leveraging the successful strategies that have propelled sales for all our other brands."