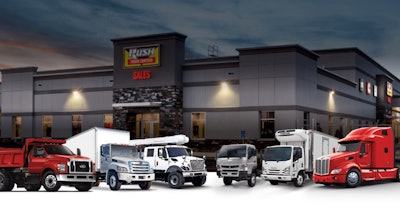 Rush Enterprises announced this week that for the third quarter ended Sept. 30, 2021, the company achieved revenues of $1.27 billion and net income of $69.4 million, or $1.20 per diluted share, compared with revenues of $1.18 billion and net income of $33.9 million, or $0.60 per diluted share, in the quarter ended Sept. 30, 2020.
Additionally, the company's board of directors declared a cash dividend of $0.19 per share of Class A and Class B common stock, to be paid on Dec. 10, 2021, to all shareholders of record as of Nov. 8, 2021.
"We are incredibly proud of our team for achieving such impressive results in the third quarter," says W.M. "Rusty" Rush, chairman, president and CEO, Rush Enterprises. "We continued to see strong demand throughout the country for trucks and aftermarket products and services in the quarter, while our diligent approach to managing expenses allowed us to maintain strong profitability despite the challenges of the current business environment."
[RELATED: Cummins to buy half of Rush's Momentum Fuel Technologies]
He adds, "While demand for new trucks and aftermarket parts and services is healthy, our industry continues to be impacted by component supply chain issues that are directly affecting new truck production and the availability of aftermarket parts. However, we are well positioned to take advantage of every potential truck sales opportunity, and we believe the investments we have made in our technologies over the past few years will continue to help us mitigate the negative impact of parts supply constraints on our aftermarket business."
Rush's aftermarket operations were particularly strong in the third quarter.
Aftermarket products and services accounted for approximately 64.5 percent of the company's total gross profits in the third quarter, with parts, service and collision center revenues totaling $463.0 million, up 15.7 percent compared to the third quarter of 2020. The company achieved a record quarterly absorption ratio of 134.0 percent in the third quarter of 2021, compared to 119.4 percent in the third quarter of 2020.
"Our significant parts and services revenue growth can be attributed primarily to the ongoing contributions from our aftermarket strategic initiatives and strong demand for aftermarket parts and services, as limited availability of new trucks causes older trucks to stay in operation longer, which in turns drives demand for parts and service. Our parts sales are at historically high levels, with widespread activity throughout the market segments we support. While parts sales are being negatively impacted by supplier constraints, the size of our nationwide parts inventory and strategic investments in tools and technologies have helped us mitigate some of the impact on our parts revenues," Rush says.
In the new equipment space, Rush sold 2,537 new Class 8 trucks in the third quarter, a decrease of 1.8 percent compared to the third quarter of 2020, which accounted for 4.7 percent of the new U.S. Class 8 truck market. The company also sold 2,792 new Class 4 through 7 medium-duty commercial vehicles in the third quarter of 2021, a decrease of 5.1 percent compared to the third quarter of 2020, representing 4.7 percent of the U.S. Class 4-7 commercial vehicle market.
"While there was very strong demand for new trucks from a variety of market segments in the third quarter due to the overall strength of the economy and high freight rates, our new Class 8 truck sales were negatively impacted by industry-wide new truck production constraints," says Rush. "Looking ahead, we believe component supply issues will continue, pushing some new Class 8 truck deliveries into 2022, which we expect will negatively impact our new Class 8 truck sales in the fourth quarter of this year. When supply constraints ease and manufacturers increase production, we believe our Class 8 truck sales will accelerate."
The company sold 1,712 used commercial trucks in the third quarter of 2021, a decrease of 16.7 percent over the third quarter of 2020. Rush cites lack of inventory for the downturn.
"While it is increasingly difficult to maintain a robust used truck inventory, we believe used truck demand will remain strong, and we are doing everything we can to support the needs of the market. Used truck values remain historically high, but we expect used truck values and our used truck sales results to return to historical levels when new truck production begins to increases enough to meet customer demand. We believe our fourth quarter used truck sales will be similar to our third quarter results," he says.